~~posted by Jen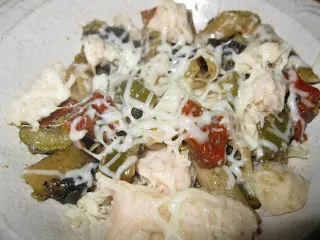 Today's feature for Leftovers Week is turkey. We probably all still have some hanging around. My boys and I loved the Gobble It Down Pizza so much on Sunday that I made it again last night. You can substitute leftover chicken breast for the turkey and it's just as yummy. Later today I'll share the BF Basics of Making Stock, so you can finally get those turkey carcasses out of the way.
You've heard me mention the resident vegetarian on occasion, and since I do 98% of the cooking here, I am learning lots of tasty new ways to create vegetarian dishes so you don't "miss the meat." That's how today's dish started out.
We have an awesome farmer's market not far from here, and usually once or twice a week we swing through there and check out the deals. Inevitably, we load up and come home with tons of awesome veggies. This trip was no exception. They have the absolute BEST sundried tomatoes there, so good you could eat them straight from the container and we frequently do.
I call this "Mediterranean" because it sounds fancier than "Italian" and has lots of the veggies used in that region: Portabello Mushrooms, Sun-dried tomatoes, and Zucchini. Here's how it goes:
Jen's Mediterranean Vegetables with Turkey
Ingredients:
4 medium zucchini, cut into quarters
1/2 cup sun-dried tomatoes (packed dry, not in oil) roughly chopped
4 portabello mushrooms caps, chopped into bite-size pieces
1 can petite diced tomatoes, with the juice
1 small sweet onion, peeled and chopped
1 can artichoke hearts, drained and roughly chopped
1/2 stick butter or margarine
2 tbsp Extra Virgin Oil Oil
1/2 cup chicken stock or vegetable stock
1 cup leftover turkey meat, cut into chunks
1 tbsp Pesto Concentrate (on the Italian foods aisle, comes in a tube, right by the tomato paste tubes)
1 tbsp Garlic Powder
1 tbsp Onion Powder
1 tbsp Italian Seasoning
1 tsp Salt
1/2 tsp Pepper
2 cups shredded 6-cheese Italian Blend
Optional: 1 pound cooked whole wheat penne pasta (this was for the non-ops, I can't handle pasta at all)


Directions:
Save the stems from the mushrooms and whatever remnants you cut off the other vegetables in a plastic bag in the fridge, you'll need these later when we make stock.


Preheat a large non-stick skillet on top of the stove. Once it's hot, add the butter/margarine and the olive oil. Add all the vegetables and saute for a few minutes.


Stir in the stock and seasonings, cover the skillet, and let it cook until the vegetables are tender, stirring occasionally for about 6 to 8 minutes.


Add the turkey and stir together until completely combined. Sprinkle the cheese over the top and cover the skillet again so it melts. Serve over pasta if you choose.