~~posted by Jen
In Sunday's BF Basics post, we covered
oven-frying
. By now you've all heard I have a resident vegetarian (or RV), so of course I had to DO something with all that eggplant. We ate a good bit of it in the form of the "Eggplant Bites", but I also made him a big casserole dish full of eggplant parmesan to take to work for lunches this week. (On a side note, those bites are damned tasty, I had to make myself quit eating them! Definitely give them a try for your next party!)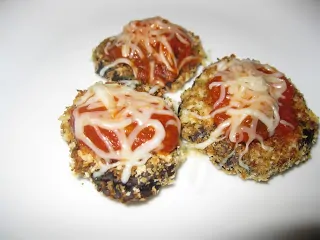 Eggplant Parm Bites
Now you may recall awhile back Nik shared her
"Naked Grilled Eggplant Parmesan"
with us. While I love her version in the summer, when I can grill the eggplant outside, in the winter months I need the comfort of breading. Is that so wrong? Probably, but that is another post.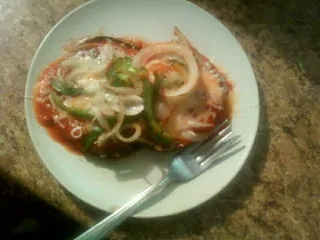 Nik's Naked Grilled Eggplant Parm
The first step in cooking eggplant is to slice it and salt it down in a colander. Salt both sides of each slice and place it in a colander to draw out the excess liquid. I usually do this right before I go to bed and let mine sit overnight in the sink (my sink has a small side where the disposal is, perfect for straining things) so all the excess water can drain out of it. Then the next morning it's ready to cook. I also recommend this for zucchini as well, if you're planning to make like a zucchini lasagna using this same methodology.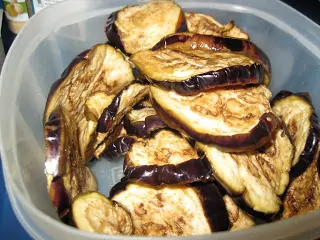 This is the rinsed eggplant after spending the night soaking in salt
Doing this removes the bitter liquid from the eggplant, and allows it to crisp up in the oven instead of being soggy. This also works for "de-sliming" okra. The salt draws out the excess liquid and/or bitterness (as is the case with the eggplant.) One important note: Make SURE you rinse all the salt off of the vegetables before you cook them. I usually don't add extra salt to my eggplant when I've used this method, it really doesn't need it.
Eggplant Parmesan is super easy to make. Step 1: Follow the oven-frying directions in the
BF Basics: Oven-Frying post.
for the egg wash and breading. I used 2 large eggplants, about 30 slices total.
Jen's Oven-Fried Eggplant Parmesan
Ingredients:
1 batch of oven-fried eggplant (from link above)
3 jars marinara sauce, brand of your choice (I used Aldi's brand with portabello mushrooms in it) or you can use home-made
2 cups shredded Italian blend cheese
2 tbsp Italian Seasoning
2 tbsp Garlic Powder
Cooking Spray
Directions:
Preheat oven to 400 degrees. In a mixing bowl, whisk together the marinara sauce, Italian Seasoning, and Garlic Powder. If you're adding the Protein Powder, whisk it into the sauce now.
Spray a
large lidded casserole dish
with cooking spray (I used Olive Oil flavor) and spoon about 1/4 cup of marinara sauce in the bottom as the base (make sure the bottom of the dish is covered). Spread the first layer of eggplant slices over the sauce.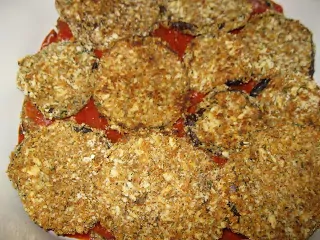 Bottom layer of Casserole
Spoon more sauce over the eggplant slices, then sprinkle with cheese. Continue layering in the same order until your casserole dish is full.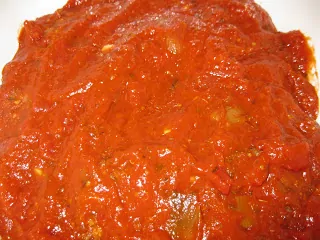 Sauce over the eggplant
Now, if you're feeding this to your family and most of it will be eaten right away, put the lid on the dish and bake the whole casserole at 400 degrees for about 45 minutes until it is heated through and cheese is melted.
Since I put protein powder in mine, and it was made to be eaten in individual portions, I did not do this.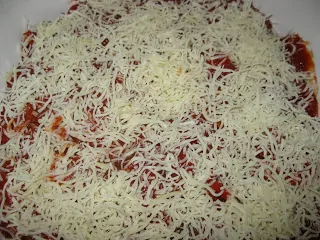 Top layer covered in cheese
If you're making these just for YOU, put them in individual containers and don't bake them. You can refrigerate for up to a week, or freeze in individual portions. Heat them in the microwave just before you're ready to eat them. (Heads up: I'd omit the protein powder if you're planning to freeze them, you could always stir a scoop into some ricotta and mix that in just before heating.)
That's how I did this one. I put the whole big dish in the fridge, then each morning he portioned out what he wanted to take for lunch and heated it up at work in the microwave. The reasoning for this is twofold: (1) You don't want to constantly heat and re-heat the protein powder. Even though the
Any Whey
is MADE for cooking, no sense in cooking the same bits over and over. (2) The cheese tends to get rubbery if you heat and reheat it. Nothing worse than getting rubbery cheese stuck in your stoma.
Early outs: If you're cleared for tomatoes, you can absolutely puree this up and eat it. Stir in some ricotta and it's eggplant lasagna! I add chicken or meat into my portion sometimes, especially if I leave out the protein powder. Mangia!