I was never much of a Curry fan, mainly because I don't like spicy foods. In fact, I had never really given it an honest try until our Holiday Preview this past November. Nik made her Curried Cheeseball as one of the appetizer demos, and when the party ended there was a small bit left that I got to take back to the hotel with me.
Let me tell y'all, that thing was GOOD. I could have (and…er…did) eaten it right by itself! I called her the next morning to tell her she'd made a
Curry
Convert out of me, which of course she thought was hysterical. So, I've been making Curried Cheeseball in some way shape or form ever since.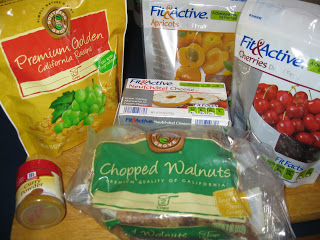 Ingredients
Y'all know what I love most about the idea of a cheeseball? It's just like a
trifle
or a
frittata
, it's one of those "blank canvas" type of recipes. You can make it a million different ways and it never tastes like you're eating the same thing twice. I dig that!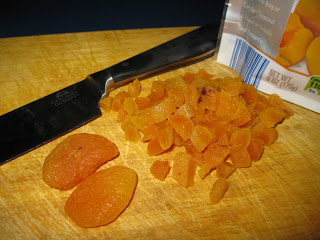 Kitchen shear work best on the apricots, but you can also use a VERY sharp knife.
This recipe is my twist on Nik's original (sorry, it was an exclusive recipe for people who attended the Preview or who ordered the Portable Preview only). I've made it a few times with different variations, and this one is both mine and the boys' favorite thus far. It's really easy to make, you can add protein to it, plus it makes an elegant but simple appetizer. Perfect to pass around or put on the buffet table for your family dinner.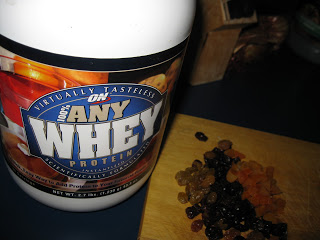 Any Whey and the chopped fruits
You could even make a "Cheeseball Sampler" (I won't tell you that I sometimes do this on Sundays for football game snacks). On a
pretty platter
, put this one, Nik's Cheese Cake Cheeseball, and one made from whatever variation YOU come up with, along with some dippers (crackers, carrot sticks, celery, apple slices, possibilities are endless) and a
spreader
for each cheeseball.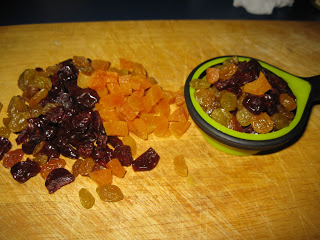 Dried fruit is high in natural sugar, so go easy the first time you try this. If you know fruit sugar makes you dump, consider omitting the fruit and using nuts instead.
This is a simple yet stunning dish to bring if you need to an appetizer for a potluck or work party. I usually make them 2 at the time, because to me it gets better as it's in the fridge, so my recipe makes 2 cheese logs. (I roll mine into logs, makes them easier to slice and serve.) But you do what makes you happy! Play with your food, people!
Here's how it's done:
Jen's Moroccan Cheese Log
Cheese Log Ingredients:
16 oz. Neufchatel cheese (1/3 less fat cream cheese), softened
1 tbsp Curry Powder (I used McCormick, it's pretty mild–start with 1tbsp and adjust to your taste)
1/8 cup dried cherries
1/8 cup golden raisins
1/8 cup dried apricots, cut into pieces with kitchen shears
Coating Ingredients:
1 c. chopped walnuts
1 1/2 tbsp Curry Powder
1 tsp salt
Directions:
In a bowl, combine cheese and yogurt and beat with a hand mixer until just blended. Add protein powder and curry powder and beat again until fully incorporated. Stir in the fruit pieces until well mixed.
Lay out a large piece of waxed paper and, using a wooden spoon or rubber spatula, scrape half of cheese
mixture onto it. Roll it into a log and wrap tightly with plastic wrap. Repeat the process with remaining half of the mixture. Refrigerate at least 2 hours.
In a rectangular bowl or plate, combine the coating ingredients until mixed well. Drop the first cheese log into the coating mix and roll it around until all sides are completely covered. Repeat with the second log. If you're planning to serve right away, transfer to your serving platter. Otherwise wrap tightly with plastic wrap and store in the fridge. They're good for up to a week as long as kept refrigerated.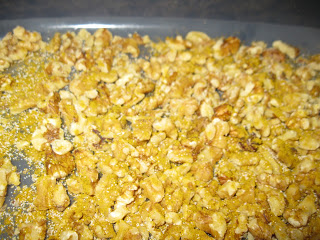 Coating Mixture
To me, they taste better if you make them the day before you want to serve so the flavors have time to "marry." I serve them with Wheat Thins or those new Flatbread Thins Olive Oil and Sea Salt crackers. You could use pita chips or veggie dippers as well.