"What up with that, Nik????"

Yes, that is very me. But this time it wasn't.
I live in Maryland and you might have heard we
had severe storms late last week. While I did not lose my power (although
everyone in my immediate family and social circle did!) I am just getting back
my cable and internet. Frankly, while I am hesitant to complain about not
having these services, I can say my personal idea of hell is being trapped in a
house with my own thoughts. Ack!
So anyway, I have bits and pieces of stuff that I
was going to post that no longer make any sense outside the context of the 4th
of July or the poverty eating challenge, but I wanted to post them just the
same, so here goes:
Look for my final report on the poverty eating
challenge, including what parts of this strict plan I'm going to try to
incorporate into my everyday life. I'll post it both here on the blog and on Facebook. It was done on Saturday but I want to be accountable for having done this challenge!
Ok, so one of the things that kept me occupied while the
cable/web was out was the fact that I am helping my stepdad with these guys:
My late mother's Basset Hounds – Leroy and
Loretta – became the proud parents of 9 (yes, 9!) puppies just two short months
ago! I'm taking one – a girl we've named Nana (which is what the divas used to
call my mom). This is her.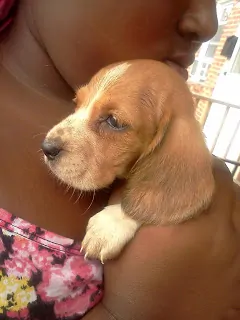 I imagine she'll become a Bariatric Foodie too as
she'll probably get ahold of some of the scraps from my mad food experiments.
There are three runts in the litter and she is the runt of the runts, poor
dear. I love her very much already! (By the way, if you live anywhere remotely
near Baltimore and have room in your heart and home for a Basset,
hit me up
!
The other 8 puppies are for sale!)
My Independence Day was fairly chill. I did five
laps around Lake Montebello, a man-made lake near where I live. Each lap is a
mile and some change. I wasn't going for speed demon. In reality I was bored as
hell and just didn't want to go home. With walking to and from the lake (3/4 mile
each way) and the five laps, that made for over 6 miles of walking! I came home
and refueled with this patriotic treat:
It's just some sweetened cottage cheese in
between layers of blueberries and strawberries. Sigh. Strawberries are going
out of season, blueberries are in. I have been trying my best to only get
produce from the farmer's market so no more strawberries for Nik after this
carton! I have also begun getting my dairy from the farmer's market from a
place called South Mountain Creamery, who extends an open invitation for folks
to come see how they raise cows. I think I'm going to take them up on that.
Stay tuned for a report!
Lastly, from the "announcement department"
several things:
If you'd like to receive the SECOND issue of the
Bariatric Foodie email newsletter, be sure to use the form right above this
post to get signed up. But it is important that you look out for an email
confirmation and respond to it or else you won't get the email! For those that
missed out on the first one, the little "gift" I included will also be in this
one.
I'm still looking for folks for "I'm a Bariatric
Foodie and…" I've done two great profiles so far. Do you have a unique or
quirky angle to your post-op life? Perhaps you're vegan or a Zumba instructor.
Perhaps you've run a marathon or…I dunno, you have Sister Wives or something.
Whatever it is, share it with the Foodie Nation! Email me to submit your story.
I swear it's easy!
Just a reminder that if you'd like to keep the
good stuff coming on Bariatric Foodie, there are easy ways to support the blog!
If you order through Amazon or Netrition, start your orders on the right menu
bar. A portion of your entire purchase helps support the blog. And if you, like
I, LOVE Quest bars, click the ad on the right to order yours. A portion of that
supports the blog as well.
Ok, I've rambled on enough, Foodies. I've got a
few experiments going in the lab…er, kitchen that I'll be reporting on soon.
One has to do with the all-important subject of HYDRATION.

Until then!