~~posted by Nikki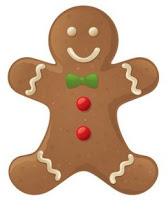 Today's the last day to submit your pics and/or recipes in the "Play With Your Food" Soup Week Cook Along Contest, so get yours in if you haven't already!
We're on the countdown to our first ever Holiday Preview this coming Saturday, so Jen and I have been busy making our lists and checking them twice. Please come to the party, whether you've been naughty OR nice!
Don't live in the area or can't find the time to join us in person? Now we can bring the party to you in the form of a Portable Preview! Order your in-person ticket(s) or Portable Preview right over there ~~~~~~~~~~~>
Apparently we aren't the only ones already thinking of the holidays. Our friends at Dunkin Donuts (and surely Starbucks as well) have brought back their Gingerbread Latte just in time for the American tradition of manic and completely senseless money spending.
So of course we have to chime in with a version that satisfies the java monster in you while helping you get your protein for the day!
Nik's Protein Gingerbread Latte
Ingredients
8 oz. skim milk
4 oz. boiling water
2 teaspoons Decaf Instant Espresso powder (use more if you like a stronger coffee flavor)
1 scoop vanilla protein powder (I use this)
3-5 pumps Davinci sugar free Gingerbread syrup (five might be too many for some. Start with three and go from there)
No-calorie sweetner, to taste
Fat free whipped cream
Optional: a dash of nutmeg for garnish
Directions
While your water is boiling, combine four ounces of your milk with the protein powder and Instant Espresso until a smooth paste forms.
Slowly add boiling water, making sure to stir as you pour. Then stir some more! It takes practice, but if you do it right you should end up with a smooth, lump-free warm drink.
Add remaining milk, splenda and syrup and stir. At this point it's not really hot anymore, but warm, so you might want to nuke it for about 30 seconds to get it back to hot.
Top with whipped cream and nutmeg for garnish and enjoy!