This year I am hosting Thanksgiving for the first time!!! It's exciting but also a bit sad. Next year we'll move from the house where we have lived for the last 13 years so this will be my first and last Thanksgiving in this house.
That's why I want to make this meal special. We're not expecting a big crowd, but for my attending family I've planned a mix of traditional (to Thanksgiving and to us) dishes and a few "remixed" favorites!
Here's my Thanksgiving menu:
Turkey
This would be "Bruh Bird: 2009." It was a rough year for me. I had to take over cooking when my mom got sick and accidentally left the turkey in the oven too long!
I contemplated not doing turkey, thinking nobody in the family was that passionate about it. I was wrong! La Grande Diva kicked up at the thought of not having a Thanksgiving turkey. My family affectionately deems our annual turkey "Bruh Bird." He is currently thawing in a nice snuggly spot in my kitchen.
If you need tips on roasting a bird, the instructions on the Perfect Roasted Chicken also work well on turkey!
Stuffing
For this one I'm sticking with our family's traditional recipe with just a few tweaks. We combine corn bread stuffing with pork sausage, onions, red peppers and green peppers and bake to perfection. We don't cook it in the bird but in a baking dish. It's very yummy! This year I'll use a leaner sausage but will keep the rest pretty much the same!
Collard Greens
Collard Green Duty requires INTENSIVE training. INTENSIVE.
These are a family and cultural favorite. I think overall, collard greens can be deemed Southern, but they are a staple in many African-American holiday celebrations. For this one, I am not modifying at all (last time I tried to do so I nearly got kicked out of dinner). Collard greens are typically seasoned with some sort of smoked meat and spices. My family uses corned pig tails to season collard greens, which is what I'll use as well.
Baked Mac 'n Cheese
That would be the Four Cheese Mashed Cauliflower folks!
This is by far the divas favorite thing on Thanksgiving. Nana is going to make her FAMOUS homemade mac 'n cheese. I don't deny them the pleasure, however I am going to make a small baking dish of my four-cheese mashed cauliflower for myself. Me and noodles don't get along. At all.
Sauerkraut
This is La Grande Diva's 2nd to favorite dish for Thanksgiving. For this one, I keep it simple: I throw some country ribs in the crock pot with onions and spices then drain the sauerkraut and add it to the ribs (we don't like it in the canning liquid – too sour!).
Candied Yams
The "Salty 'n Sweet" Potato Casserole was a hit at this year's Bariatric Foodie Holiday Food Tasting!
While I am making the traditional (which, by the way, MUST employ King Syrup in my family – nothing else will do), I am also making a side dish of my "Salty 'n Sweet Potato Casserole." (The recipe for this dish is included in the Holiday Survival Kit for those who ordered one. For those wanting the recipe, it's not too late to get it! See the PayPal button on the left!) My version cuts out most of the sugar and plays on a salty/sweet combo that is SOOOOO satisfying.
Green Beans
To save time, I am doing canned (but I'm draining them of the canning liquid to get rid of some of that sodium!). In my family, we do green beans much the same way as collard greens – cooked with some sort of smoked meat. This is an area where I made a simple swap. Instead of smoked pork neck bones, I am using smoked turkey necks. Saves a few a calories (JUST a few).
Mashed Potatoes and Gravy
What is Thanksgiving without these? I am a mashed potato snob though. I don't like the boxed version. I mash my own potatoes and mix with a combination of garlic, spices and Greek yogurt for an extra kick of tangy creaminess (and a negligible amount of protein). Those who came to the Holiday Food Tasting got to taste a mashed potato swap that I thought about serving. But I'm not too passionate about mashed potatoes so I'm just going to serve my family the spuds!
I make a simple gravy by boiling the turkey "innards" in onions and spices. Then I remove the turkey parts and add a thickener (1 part Atkins Baking Mix: 1 part COLD water – usually 1/4 c. of each) and boil an additiona 5-7 minutes. It thickens upon standing and is yum, yum, delicious! (Hint: if you want it to be yum, yum lowfat, make the day before, and stick the broth in the fridge before adding the thickener. The fat will rise to the top and you can skim it off!)
Rolls
Since I'm not eating any, this didn't seem a battle I wanted to fight. I got normal brown 'n serve.
Sweet Potato Pie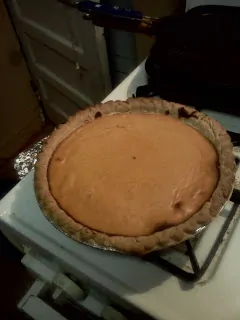 My family does not eat pumpkin pie. I tried to swap it out for them, thinking they taste pretty much the same. They could tell! For one thing, the color is different. But still…this year I'm going to be good and give them their sweet potato pie…with a little something extra. 😉
Apple Pie
I am also a pie snob. I don't do Sarah Lee, I do Granny Smith!!! Apple pies are a great way to get the divas involved in the dinner too. They peel the apples and use their (washed) hands to mix in the spices. Instead of corn starch, I use a bit of Atkins Mix to thicken the apple juices (in the absence of this, multi-grain pancake mix will also work fine). And of course my pies are made with Splenda instead of sugar. ALL my pies. (Although the fam doesn't need to know that!)
Yep…this ought to satisfy the crowds!
There is one other piece of business related to Thanksgiving before I leave you to creating your own holiday masterpieces. Be sure to check in with Bariatric Foodie on Facebook and Twitter on Thursday for encouragement, fun polls and other comraderie to help you keep your sanity on this food-centrick holiday!
Happy Thanksgiving!