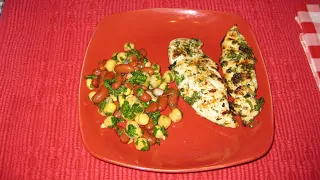 Foodies…how do I love you? Let me count the ways…
Well, firstly, because you all are always on time! What do I mean by that? Well, if you haven't heard yet, the divas and I are moving! On May 5 to be exact. So you know what that means…not much recipe invention going on over this end until the big move.
But you guys always have me covered. I love when folks send me their recipes! It's always fun to peek into your kitchens.
This one comes to me from a fellow Foodie named Gypsy!
Here's what she had to say:
This is what we are having for dinner tonight. So yummy and my oldest actually requested the Cilantro Lime Chicken ;). Full of protein and flavor!! Enjoy
~Gypsy
Gypsy's Cilantro Lime Chicken
Ingredients
4 boned, skinned chicken breast halves (2 lb. total)
 (i'm using chicken tenders)
1/4 cup lime juice
1/2 cup chopped fresh cilantro
6 cloves garlic, chopped
1 tablespoon honey
1 tablespoon olive oil
1/2 teaspoon salt
1/4 teaspoon pepper
Preparation
1. Pound the chicken breasts to an even thickness (about 1/2 in.) and place in a shallow baking pan.
2. In a small bowl, mix lime juice, cilantro, garlic, honey, olive oil, salt, and pepper. Pour over chicken and turn pieces to coat evenly. Cover and chill at least 30 minutes or overnight.
3. Lay chicken on a grill over medium heat (you can hold your hand over the surface only 4 to 5 seconds) and cook, turning once, until no longer pink in the center, 4 to 6 minutes per side.
 …And get this…Gypsy gave us a two-fer!
Cilantro Bean Salad
Throw some kidney beans & garbanzo beans in a bowl- drained and rinsed, with some lemon juice and olive oil, garlic salt & red onions & cilantro. Refrigerate & eat for a snack or lunch! Better the next day when all the flavors meld together.
Thanks Gypsy for those great recipes! If YOU have a recipe to share with the Foodie Nation, hit me up! I'd love to feature you.