This past weekend I held a BBQ for Baltimore-area Foodies.
It was GREAT! My friend Margaret offered up her "ranch" (aka beautiful home
near Frederick, MD) for the event and we all brought a WLS-friendly dish to
enjoy.
The only thing that bugs me about doing live events is that
BF has a readership across the U.S. (and, according to the Google, around the
world) and there are many Foodies who simply cannot be there. And unfortunately
I don't have the resources to come to each and every one of you!
But I figure the least I can do is share the yumminess that
comes out of the live events I do in hopes that you guys pick up a new recipe
that you love. In the spirit of this, I am sharing as many recipes as I can
from the BBQ.
First up is Julia's Jerk Shrimp &Caribbean Quinoa Salad (for a quick tutorial on quinoa, click
here
). Julia is a Foodie but she's
also someone I correspond with locally through a coffee meet-up group I belong
to. She's been making this salad a while, mentioning it for a while. So I had
to INSIST she bring this as her dish to pass at the BBQ.
It was YUMMY! Despite the name it was not "hot-spicy" but
what I call "spice-ful" (meaning it has spices that don't burn your tongue and
you can taste those spices). It also had a sweet/savory combo flavor going on
that I really liked!
Julia's Jerk Shrimp & Caribbean Quinoa Salad
Ingredients:
1 cup dry quinoa
2 cups chicken broth
1-1/2 pounds shrimp, peeled & de-veined
2-1/2 tablespoons jerk seasoning
2 tablespoons extra virgin olive oil
1/2 cup each, chopped: strawberries, green grapes, mandarin oranges, pineapple tidbits in juice (juice reserved)
2 green onions, chopped
2 tablespoons chopped cilantro
Caribbean vinaigrette: 3 tablespoons reserved pineapple juice, 3 tablespoons lemon juice (one lemon), 3 tablespoons extra virgin olive oil, jerk seasoning to taste
Directions:
Rinse quinoa under cold water (if package requires…some quinoa is pre-rinsed so you can skip this step). Combine chicken broth & quinoa in a pot. Bring to a boil, cover, turn heat to low and simmer for 15 minutes until broth is absorbed. Set aside to cool.
Pat shrimp dry and place in bowl or large Ziploc baggie. Add olive oil and jerk seasoning. Toss to coat and let it marinate for at least 30 minutes. Heat a large skillet over medium-high heat and cook shrimp until cooked through (about 2 minutes per side, depending on size of shrimp). May need to work in batches. Set shrimp aside.
Mix vinaigrette ingredients thoroughly. Combine chopped fruit, cooled quinoa and shrimp in a large bowl. Add dressing and stir to combine.
NOM! It was sooooo good I found myself wishing I'd taken some leftovers home. But alas. I guess I have to make some for myself.
This recipe was brought to you by: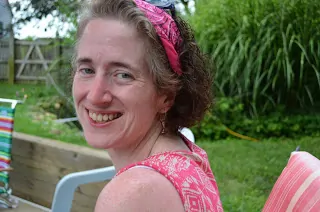 Julia, proud member of the Foodie Nation since 2011!