I've said it once and I'll say it again. The Obesity Action Coalition "Your Weight Matters" Convention is awesome. Why?
Too many reasons to detail in one post but I will say there are at least three reasons I say this:
World class education on obesity from the experts on the cutting edge of research. You get to find out the latest information in the fight against obesity – stuff you can use to live your healthiest life!
The chance to advocate and pay it forward to those who continue to struggle with their weight. Weight bias and stigma are real and noted. From medical professionals to education and especially in fashion and the media, bias still exists that violates the dignity of people living with obesity. During the convention you get to be a voice for all of us!
Friends! I get to see so many people from the Foodie Nation, and meet new friends, as well as experience new products and services.
So this all brings me to the point of this post, which is to highlight my five big takeaways from this year's convention.
The Obera Gastric Balloon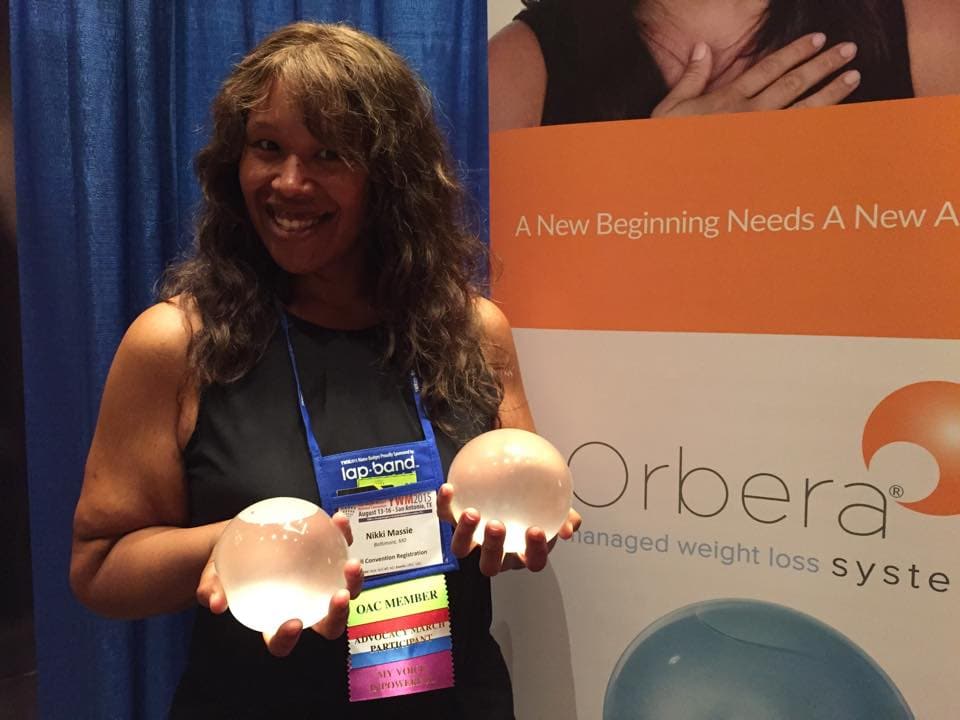 Pictured above (no, those are not breast implants!) the Obera Gastric Balloon is the newest obesity treatment on the scene. It was recently approved by the Food and Drug Administration (FDA) for the treatment of obesity. From the reading I've done, the balloon is inserted via a tube down the throat (while under sedation) and filled with a liquid solution. It's meant to stay in about six months and is for people who have up to 50 lbs. to lose.
My impression of the actual balloon is that it looks…large. And a little bit intimidating. The staff manning the table assured me they don't fill them that much inside people but did so to show the balloon. I sent an email to a rep about some of the other questions you guys had and am awaiting a response. I think I'll do another post just about the balloon once I've got the full 4-1-1.
We've only scratched the surface of playing with our food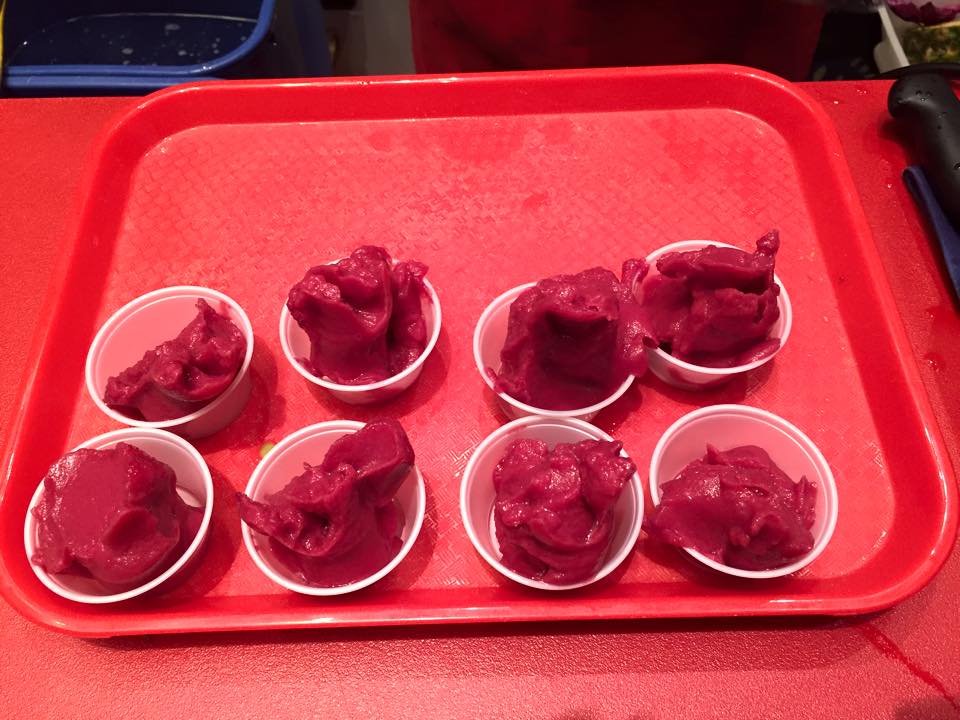 This, my Foodies, is sorbet. But not just any sorbet. It's red cabbage sorbet. Yes, you read right. It has red cabbage in it! (I know!) But here's the kicker: it actually tastes good! No seriously trust me on this one. It tastes good.
This was one of the many treats that was served by the good folks at Vitamix (I didn't get a good picture of the Vitamix guy…I was sort of entranced by the sorbet). I may have to investigate getting one of these. They are a bit pricey but they mix stuff cold or hot and the guy literally made chicken tortilla soup in less than 5 minutes. I just keep thinking on those days when I go to work, then to class and come home to two hungry kids (even though they are teenagers now…) and a hungry man and just wish dinner would magically appear. This could be my answer!
Food for Thought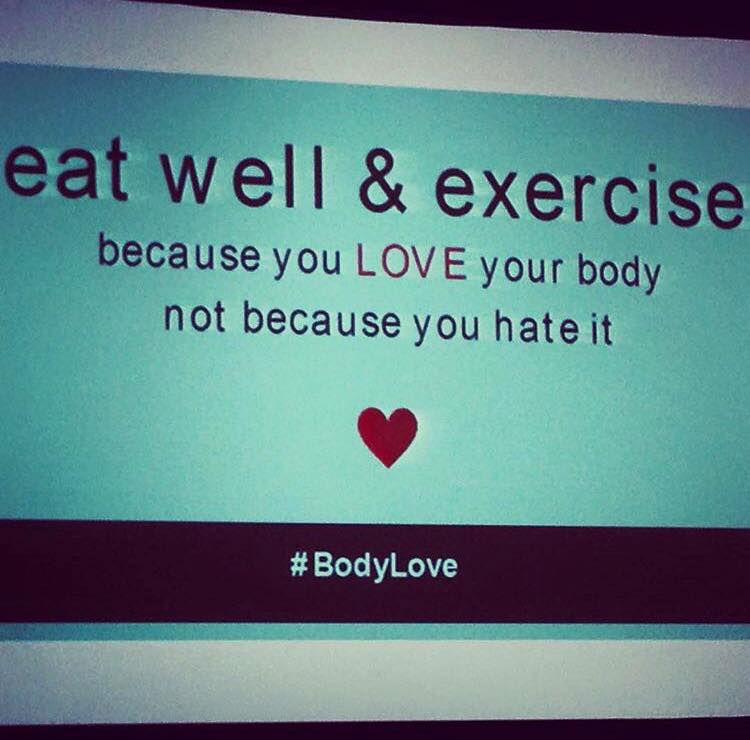 Every convention there is that one speaker with that one slide that makes me want to get up and do a good old, circa 1980's "slow clap." This would be that slide.
It was during a presentation on nutrition. This slide so perfectly sums up where I am in my journey. I don't exercise to get to a certain number on the scale. I do it because it makes me feel strong and powerful. I don't eat right because I want to fit into a certain clothing size. I eat right because it makes my body feel good and will help me achieve optimal health.
Foodies, I'm not saying it's wrong to want to achieve a goal weight or size – no way! – but I am saying that at the end of the day it has to be about loving yourself. One day the scale will stop going down and you'll hit your bottom weight but guess what? The fight isn't over! You are in this for life and self-love is a motivation that will keep fueling your journey forward.
We're a movement by ourselves, but we're a force when we're together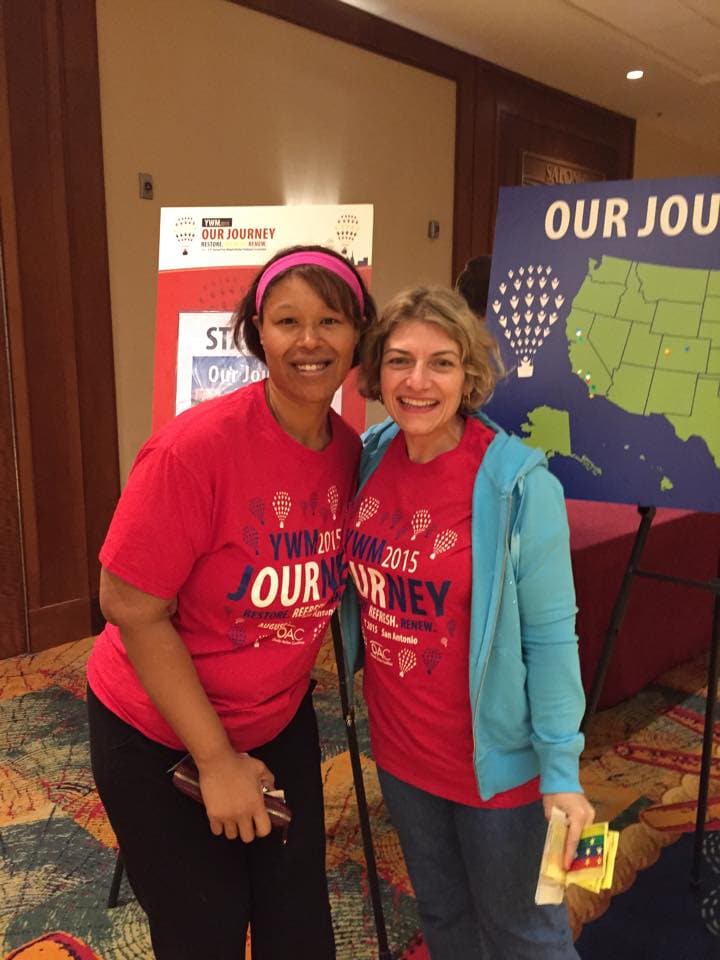 This is Shelly and you all know her as Eggface from "The World According to Eggface." She's one of my personal idols. I remember seven years ago when I was a baby post-op reading her very first protein ice cream posts and running out that day to get an ice cream maker. She and so many others dole out hope and understanding and encouragement. I'm proud to be among weight loss surgery bloggers like her. But what you may not know is that Shelly does so much more than blog! She sits on the national board of the OAC and headed up the convention planning committee. She works tirelessly to support folks in her local area of SoCal as well as post-ops around the world.
To me, Shelly is an excellent testament to why membership in the OAC is worth it! You get to stand with people like her, supporting and organization that will always have your back in the fight against obesity. So if you want to join me, Shelly, and tens of thousands of other people across the U.S., why not join the OAC?
The Convention Gods Love Me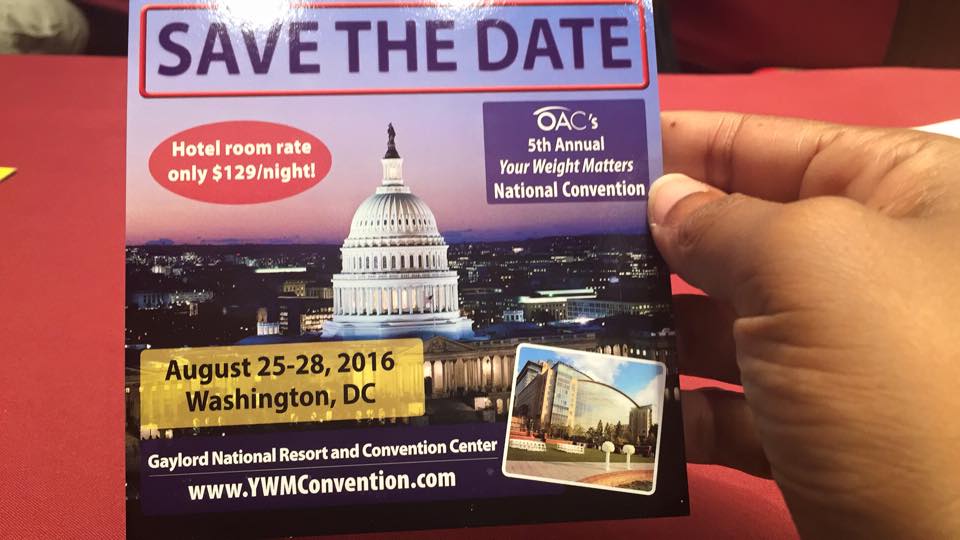 Next year the convention is my 'hood! Sorta.
The 2016 "Your Weight Matters" Convention will be held in Washington, DC from August 25-28, 2016 at the Gaylord National Resort and Convention Center. It promises to be just as awesome as all the other conventions, packed with education, great vendors, good friends and – ME! I live just a stone's throw away in Baltimore so I'm thinking of planning a little pre-convention soiree for the Foodie Nation. Stay tuned.
But seriously. Obesity is not widely accepted by society as a disease (even though major medical bodies and countless research defines it as such). People living with obesity have the right to respect, access to care and protection from bias and stigma that can impede their health, violate their dignity or limit their life options. And we are all people living with obesity. We are all affected by this disease. Yes, even you who is 10 lbs. below goal – you, too, are living with obesity! We were given a second chance through bariatric surgery to live healthier lives. Let's come together to make sure that no matter what choice a person makes to get healthy, they have all the support they need!