~by Nikki
Ok, so the weather has dipped into the 70's…the 60's even for a few days. Which, technically, is a sign of climate change which probably means we're all doomed.
But after a long, hot summer…forgive me environmentalists…I am glad for the cooler weather.
It has me thinking about things I haven't thought about since…March at least. Baking. And sweaters. And soup.
Soup!
There are varying opinions about soup post-op. Yes, technically it is eating and drinking together. We know that. In the beginning, Jen and I both tended to eat the "guts" of the soup and save the broth for later. But this soup is hearty, not liquidy, so I don't consider the same rules applying here.
At any rate, this is one of my very favorite soup recipes. It's so good, my youngest daughter asks for it by name. What's great about this recipe is that you can easily make your own variation, it works at any surgery stage and it even works for vegetarians.
Nik's Curried Lentil Soup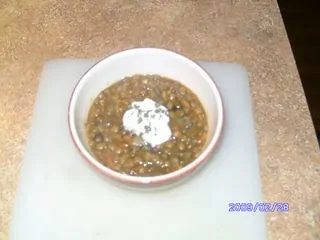 Now don't freak…if you don't like curry, you can skip it and season it any way you want. I LOVE curry and especially peanut curry. So this soup is right up my alley. The peanut part is very subtle but so necessary. It will have folks saying "what IS that?" But don't tell. It's our little secret!
Ingredients:
1 lb. bag of lentils
15 oz. vegetable stock
2 cloves of garlic, minced
4 cups of water
1 onion, chopped
3 tbsp curry powder (whichever kind you like is fine. For this I tend to use standard grocery shelf curry)
1/4 c. peanut flour (or PB2…and if you are in a pinch…just use 2 tbsp plain peanut butter)
A "splick" of red pepper flakes, if you like a bit of heat
3 scoops unflavored whey protein (this one
is formulated for cooking)
Instructions:
Place the lentils, veggie stock, garlic, onions, curry powder and water in a crock pot. Set it on low. Go to work and have a good day!
Come home and throw in your peanut flour and your red pepper flakes (do NOT add red pepper initially. When you cook them, they burst and become way hotter with way less flakes).
Switch your crock pot to high and let them go another forty-five minutes. Stir in the protein powder and make sure it is well mixed. It should not appear lumpy or be noticeable at all (at least not from my experience…the above has protein powder in it). Let it go another 10 minutes or so then serve 'em up! I like a dollop of Greek yogurt on top as you can see.
I like to serve these, oddly enough, with parmesan chips. I don't have a picture of them but they are super easy.
Parmesan Chips
Ingredients:
Freshly grated parmesan cheese
Instructions:
Lay a piece of parchment paper on a cookie sheet and pre-heat your oven to 350.
Sprinkle parmesan in little disc-shaped piles on the cookie sheet.
Bake for about 10-15 minutes. Keep an eye on them. Baked cheese can go from crispy to burned REALLY fast.
Allow them to fully cool. Until they are cooled, they are basically melted goo. And they don't necessarily adhere to a pretty shape, but they are darn tasty!