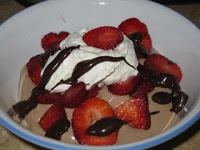 ~~Posted by Jen
I love chocolate. I mean deeply and truly.
So, like we say at Pouch Parties, we don't mandate anyone. Everyone is the master of their own pouch. I personally subscribe to the "all things in moderation" philosophy, because I know what works for me and what doesn't.
If I get into the "diet mentality" and start listing things I can and cannot have, then the little voice in my head (or the devil on my shoulder, maybe?) gets all, "Hey Y'all, watch this!" Seriously! I know it sounds crazy, but then I never claimed to be anything less than at least a little bit crazy. Wrap it up in a Southern accent, and you'd be amazed the things you can get away with saying to folks!
S'anyway, back to the topic at hand. You know how sometimes you just want CHOCOLATE?? But you don't want to blow your whole plan on one or two bites of bliss. Am I right? Not to mention if you dump on sugar (which I don't, but Nikki does), that opens up a whole other plethora of issues. What's a post-op WLS'er to do? For starters, get in your kitchen and mix up a batch of this! Stat!
Jen's Chocolate and Strawberries "Better than Sex" Dessert


Ingredients:
1/2 cup Fage (or your favorite brand) 0% Greek Yogurt
5 medium sized fresh strawberries
3-4 tablespoons Sugar Free Chocolate Syrup

4 packets (or to taste) Splenda

Sugar Free whipped cream (or whatever type of whippage you prefer)
Directions:
Cut 4 of the strawberries into small chunks, and slice the 5th one. Set aside the sliced one to use for garnish.
Whisk together the Greek yogurt, chocolate syrup, strawberry chunks, and Splenda in a mixing bowl until well combined.
Pour mixture into a serving bowl and top with as much whippage as your little heart desires. If you want to get all fancy, or are trying to impress someone, layer the chocolate mixture and whipped cream in a parfait glass
Arrange the sliced strawberry on top of the whipped cream and drizzle a little chocolate syrup over the top.
Grab your spoon and dig in!
Sometimes I use the chocolate mixture and dip whole strawberries into it. You could also use this as "icing" for a
chocolate protein cake
and top it with the strawberry slices. OMG So good!!!