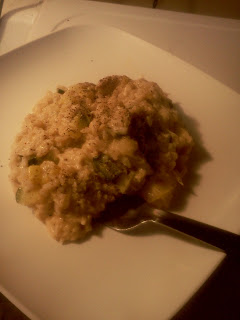 Ok, let's first talk about what Chicken a la Nik is NOT.
It is not (necessarily) a knock-off of Chicken a la King. There may be some similarities, but this isn't that.
But this is a really decent, family oriented meal. It is a one skillet meal and has a "down home" feel to it.
So let's jump on in.
Chicken a la Nik
Ingredients:
1 small zucchini, finely diced
1 small yellow squash, finely diced
1 small onion, finely diced
1 clove garlic, minced
1 lb. chicken meat of your choice, cooked and shredded (I got a small rotisserie chicken and used the white meat)
Salt, pepper and whatever other savory spices you like (I used some seasoned salt)
2 tbsp Atkins All Purpose Baking Mix (In the absence of that you can use either whole wheat flour or whole wheat pancake mix. In the absence of THAT, cornstarch also works but doesn't have many health benefits)
1 tbsp butter or butter substitute (I used Blue Bonnet Light)
2 c. milk
½ c. freshly grated Parmesan cheese
2 c. cauliflower rice (or if you do rice, the same amount of brown rice)
Optional: Something red. Bell peppers, perhaps?
Directions:
Spray a skillet down well with nonstick and set it over medium-high heat. Get it very hot then add the vegetables and sautee for a few minutes until soft. Add garlic.
When onions begin to brown, throw in the chicken meat and mix thoroughly. Add spices.
When the chicken is warmed through, add the butter and melt it into the mixture. Then add the flour and mix that in thoroughly.
(NOTE: It is VERY IMPORTANT to make sure the flour is mixed in there well. Break up any lumps. Everything should look "dusty" when you're done mixing but there should be no identifiable clumps of flour.)
Slowly add milk while stirring. Reduce heat and stir. As sauce begins to thicken, add Parmesan and continue stirring.
(Give it a taste. Is it well seasoned? Yes. Not too salty? Brilliant! Ok, then. You've done a good job!)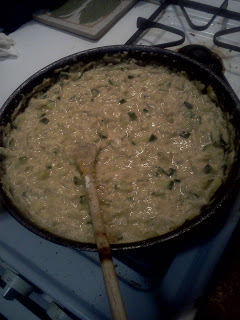 Once the sauce is set, stir in cauliflower rice and allow the whole thing to warm through.
This is a good one for the kids. You can sub in any veggie your kids like. Next time I might do peas for La Petite Diva. Or broccoli for La Grande Diva. But this basic recipe and methodology will serve you well, no matter what you like.
Enjoy!