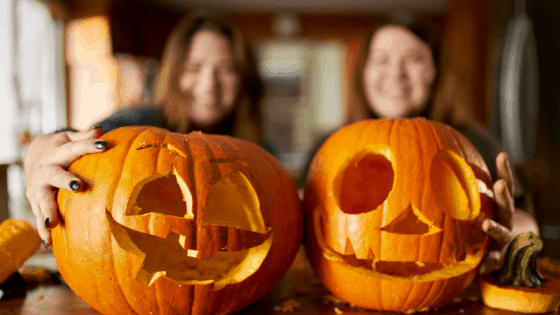 Halloween is a perfect example of one thing America does particularly well:  totally obliterating the meaning of a holiday with food! We start the year with Valentine's Day…which is supposed to be about love. How do we celebrate? With chocolate.
Then there's Easter, the celebration of the resurrection of Jesus Christ. And how do we Americans observe it? With candy eggs and jelly beans.
Memorial Day and the 4th of July are all about the barbecue as is Labor Day usually. So here we are…at the cusp of yet another round of food holidays…starting with Halloween.
So how do you cope? Welllll…there are several schools of thought out there. One is that you should take the focus OFF of the food. That'd be really easy…if everyone's focus wasn't ON the food.
That's why we post-op weight loss surgery folk need a more practical approach to Halloween. And that's where Bariatric Foodie comes in. Here's your official guide to surviving Halloween.
Halloween Tip #1 – Buy candy you don't particularly like to give out to trick-or-treaters
I am a chocolate girl. If I was faced with a bowl of chocolate candy (and I didn't dump which, thank GOD, I do!), I might be tempted to eat…and eat and eat. But I am not so much for taffy. I can't stand the stuff. So if I were inclined to eat Halloween candy, what do you think I'd buy? I'd be a Laffy Taffy buying fool y'all!
Most kids like most candy. If they don't they'll give it to their moms and dads and if THEY don't like it they'll take it to work. In all these exchanges someone somewhere will likely eat the damn candy. But that's not really your problem. If there is a particular kind of candy you don't care for, buy THAT candy to give away at Halloween.
Halloween Tip #2 – Paaaartay!
This one seems overly obvious coming from us. But consider having a Halloween party for your kids (or for your friends) instead of trick-or-treating. You can make cute goodie bags for guests and to serve, you can make lots of yummy—and healthy—treats. Jen's seafood salad and cuban sandwich spread, along with my curried chicken salad all make awesome finger sandwiches, or just put a bowlful in the middle of a platter with some whole grain crackers.
For finger-fare, Jen's crab dip or 3 cheese tomato spread make great party fare with veggie crudités. My cheese ball is pretty awesome if I do say so myself (scroll down in that link to get to it). Put out some hummus and pita triangles, some salsa and whole wheat tortilla chips.
Not to mention my Magic Meatballs are always a crowd-pleaser. Make them a bit smaller and simmer them in the crockpot in some marinara. Set out hot dog or hoagie rolls, Arnold makes the new sandwich thin "Stuffers" for just this reason, and you have scrumptious make-your-own meatball subs!
Want a sweet ending? You could whip up some Pumpkin Protein Cheesecake or Chocolate Peanut butter pie, and all your goblins will be happy. And look to the end of this post for Jen's Witch's Brew, the perfect warm Halloween party punch!
Halloween Tip #3 – Share and share alike…
If your kids are like mine, they come home with a TON of candy. I take the "Mommy Dearest" approach. Remember in the movie how Christina got all those birthday presents but she was only allowed to keep one and had to give the rest away? Yeah, that approach. I pick a large enough container, let the kids rifle through their candy and fill it with what they really, really want. The rest goes into the office with me and it goes pretty darn fast. This keeps the candy out of my face and it teaches the divas to moderate (I hope).
Halloween Tip #4 – Eat some chocolate
Yes, I did say that thankyouverymuch. But not the chocolate that comes from your kids' candy buckets. Instead, indulge in a really good bar of dark chocolate (we each have our threshold. I like up to 70% cocoa). How to know if it's GOOD chocolate? If the bar costs less than $2.50, it's not high-quality chocolate. (Feel free to debate me on that one, though!)
If you want to go the extra mile, you could combine your sweet tooth with your vitamin dose with this yummy from ProCare Vitamins.
Or it's perfectly respectable to just go with a good ol' fashioned piece of chocolate. But go dark! Usually dark chocolate has good stats and lower sugar than its milk chocolate counterpart. Get fancy with it! Buy a bar infused with hazelnut or espresso or mint. The bars I like
have decent stats. I allow myself four squares at a time and they are HEAVEN. Plus dark chocolate has flavanoids, which are good for you AND cause the same chemical reaction in the brain as falling in love. So why deprive yourself?
Tip #5 – Consider a costume
Huh? Yes, consider a costume. And bring your A-game! Why?
Because getting into the spooky spirit of Halloween will shift your focus away from candy and sweets! So get dressed up, and make sure to get seen! It'll help you have fun without eating.
And here's a nifty little Halloween beverage courtesy of former Bariatric Foodie co-author, Jen.
Bonus Halloween Tip: Have a Drink
No, not that kind of drink. (What kinda blog do you think this is?!?)
Here's a tasty Halloween-themed drink, courtesy of my good friend, and former Bariatric Foodie co-author, Jen Stockinger.
Jen's Witch's Brew:
Ingredients:
8 cups Sugar Free (or No Sugar Added) Cranberry-Raspberry Juice
5 cups Sugar Free (or No Sugar Added) White Grape Juice
16 Whole Cloves
2 small unpeeled oranges, sliced
2 unpeeled lemons, sliced
Cinnamon Sticks
Directions:
Place juices, cloves, orange slices, and lemon slices in a Dutch Oven. Bring to a boil over high heat.
Reduce heat and simmer, uncovered, 15 minutes.
Strain juice mixture through sieve  into 4 or 5 quart Slow Cooker; discard cloves and fruit slices.
Set slow cooker on "low" or "warm" setting to keep the punch warm. Serve in cups garnished with a cinnamon stick. Makes about 24 four ounce servings.