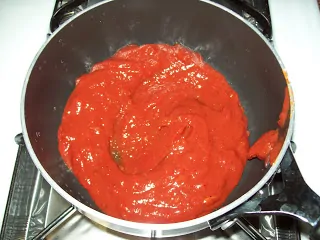 The other day on the Pouch Party Facebook page, I asked you guys, my fellow "foodies" what foods you'd like to see get a make-over on the blog.
From this a good discussion sprouted about barbecue sauce.
Yes barbecue sauce…not exactly the meaning of life or world peace but still important in its own right.
There were quite a few people who asked for an alternative recipe for barbecue sauce — one that is not high in sugar.
Even though I am the proverbial RNY sugar dumper, I can actually tolerate barbecue sauce in moderate quantities…so long as it is paired with a protein. For this reason, and the fact that every sugar-free barbecue sauce I've ever tried tasted like Pure-D ASS, I usually stick with the real stuff in small amounts. But for those who don't want to, or can't do that, there should be a solution!
So I put out the call to my foodies, asking anyone who makes a sugar-free or no-sugar added sauce to submit the recipe so that your fellow foodies can benefit from it.
The lovely, lovely Susan H. took up the call.
Her sauce is no-sugar added (if you don't know the difference between sugar-free and no-sugar added, might I suggest you familiarize yourself BEFORE proceeding…not knowing the right one for you can have dire consequences) and requires ingredients that are either already in your kitchen or very easy to acquire. So…let's go to it!
Susan's Barbecue Sauce
Ingredients
1 ½ c.Low Sugar Ketchup (Susan uses Heinz low-sugar ketchup)
1/4 c.Apple Cider Vinegar
1/4 c. tbsp Splenda Brown Sugar Blend or Brown Sugar Twin*
1/4 c. chopped onion
½ tsp. each garlic, onion and chili powder
Salt and pepper, to taste
*Splenda Brown Sugar blend contains actual brown sugar, which contains molasses, which would give the sauce added sugar. If you are a sugar-dumper, go with the Brown Sugar Twin or see if you can find something like Diabeti-Sweet brown sugar substitute.
Directions:
In a small sauce pan combine Ketchup with Apple Cider Vinegar, 1 teaspoon at a time until desired thickness, while on low heat,
Add onion and spices, amounts vary on a persons taste, I would guess about 2 tablespoons each, let simmer for about 2 min.
Add brown sugar, constantly stirring for about a minute. If sauce gets too thick add about a tablespoon of apple cider vinegar, or water.
Taste, add spices as desired, Sauce taste improves as it sits, so best to make it the night before. Makes about 1.5 cups of sauce.
I don't know where you live, but in Maryland spring is starting to show her beautiful face (she's fashionably late but I forgive her). For some of you that means it's time to fire up the grill! So this sauce recipe is right on time!
Give it a try. Slap it on some chicken, or dip some meatballs in it. And if you like it, leave a shout out to Susan in the comments!