~~posted by Jen
Well it's the night before the day before the night before Christmas, and all is frantic in my world. Even though my family is 1300 miles away, I have lots of local friends who are like family that I spend time over the holidays with. One of my best friends from work very graciously invited me to spend Christmas Eve and Christmas Day with her family this year. She has 2 little boys, and a large, boisterous Cuban American family, so it will be a fun time.
Of course, my budget for gifts is pretty slim since I missed so much work this year, but I came up with a couple more ideas if you have some "last minute" gifts you need to come up with in a hurry on the cheap.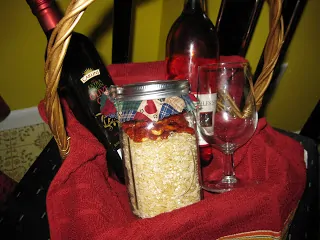 Idea #1. Another version of the "Romantic Dinner In A Basket" idea. It has a bottle of wine ($2.99 at Trader Joe's), wine glasses ($1 each at Home Goods), a bottle of flavored olive oil ($4 at Aldi), and the jar is a risotto mix ($1 at Stop n Shop) layered with sundried tomatoes and dried mushrooms. The whole deal? Less than $20 (including the basket, jar, and towel) and a very nice gift for 2.
Idea #2. A Snack Basket or Movie Basket (if you add a DVD). It has several packs of various flavors of nuts and trail mix (39 cents a pack at Aldi's), a box of cheese straws (I put them in a jar, but you could just stack the box in the back. $1.99 at Aldi's), a bag of microwave popcorn, and it makes a nice sized basket of snacks. Again for less than $20, you could add in a DVD and make it a gift for a whole family.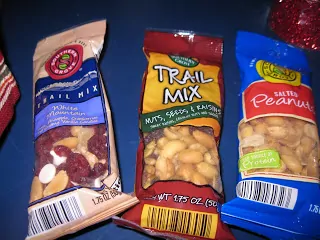 These packets of nuts and trail mix are 39 cents each at Aldi's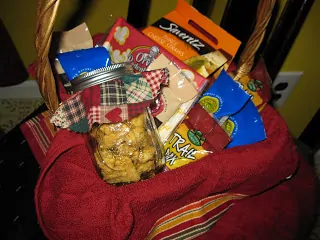 The completed basket, without DVD
If you're really pressed for time and don't have a few minutes to put these things together, a gift card to the movies or a favorite restaurant or store is always very much appreciated. If you don't even have time to stop and buy a gift card, hop on Amazon and get an
e-gift card
you can print out. By the time you get your shoes on to leave, it will be printed out and ready to give! Merry Christmas!