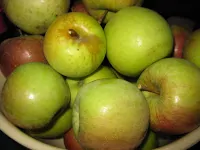 Fresh From The Orchard!
~~posted by Jen
Sorry this is kind of late, I'm fighting the cold from hell and have been knocked out on the couch (Thanks, Nyquil!) for the past few hours. We went apple picking at a nearby orchard this morning. That was SO much fun, and just what I needed.
The sun was shining, the air was cool and crisp, a beautifully perfect Fall day. 2 hours and 2 mixed bushels of apples later, we were headed home. We picked a nice mixture of Granny Smith, Fuji, Golden Delicious, Cameo, Gala, and Johna-Gold. The Honeycrisp were all gone, and the Pink Lady apples weren't quite ready yet.
Since I'm home from work for at least a few more weeks, I'll be making lots of homemade apple pie filling and applesauce and canning it. Nothing is more satisfying than biting into something you picked, canned, and cooked yourself. (Yes, I am a throwback, thanks for noticing.)
I think it's because it reminds me so much of growing up in South Georgia, both sets of my grandparents farmed, and we always had a huge garden every year. I can't help it, all those farmer genes floating around, of course I get giddy over picking apples!
So before I drugged up and passed out, I peeled 6 apples and made some Sugar Free pie filling to bake the boys an apple pie. That's a household favorite and I can't tell you how much money I'll save on canned pie filling by making my own.
One of my favorite go-to breakfasts is still Greek Yogurt mixed with SF pie filling and some Kashi Go Lean for crunch. By making your own, not only do you save money, but since it's so much fresher you'll also get more nutritional benefits from the fruit. (This method doesn't cook the fruit to death like some commercial brands do.)
Jen's Sugar Free Apple Pie Filling
Ingredients:
6 large firm apples, peeled, cored, & sliced (I used 3 Granny Smith and 3 Cameo)
juice of 1 lemon
4 tbsp butter
3 tbsp cinnamon
3/4 cup Splenda
1/4 cup water
1 tbsp cornstarch
2 tbsp Splenda Brown Sugar blend (**this does have some real sugar in it, so I only used a small amount. Nik uses Brown Sugar Twin that is completely sugar free.** OR substitute 3 pumps of Davinci Sugar Free Caramel Syrup)


Directions:
Juice 1 lemon (this
works great for juicing citrus). Peel, core, & slice
your apples into relatively thin slices, then squeeze the lemon juice over them (this prevents them from oxidizing and turning brown). Heat a non-stick skillet
and place the apple slices in it. Add the Splenda, Cinnamon, Brown Sugar Splenda(or whichever substitution you used), water, and butter to the apples. Let the water, seasonings, and butter get warm and start melting together.


In a small separate bowl, spoon about 3 tbsp of the water mixture from the skillet into the bowl, then add the cornstarch to it. Whisk it in quickly so it doesn't lump, then add it back to the skillet.


Simmer the apple mixture for about 5 minutes or so, until the apples just start to get tender and the liquid thickens up a bit. Let it cool, then store it in a covered plastic container in the fridge.


You can also make larger batches and process it in canning jars for 10 minutes in boiling water, these keep for a year.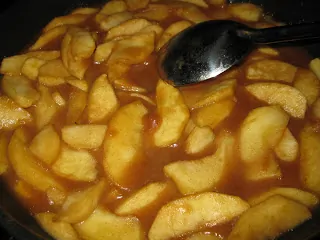 Any fruit will work for this, adjust your amount of Splenda based on the natural sweetness of the fruit. Peaches, blueberries, cherries, and strawberries all work well for this. Obviously, for those you would omit the Cinnamon and Brown Sugar Splenda. Great combinations to try are peaches and blueberries, or triple berry with strawberries, raspberries, and blackberries. I also like cranberries added to the apple for a little extra zip.
Play with your food! Make up own tasty combinations, then tell us what you came up with! Mix some into your Greek yogurt, or even ricotta cheese or cottage cheese, and dig in! Better yet, make some of my High Protein French Toast and top it with the heated apple mixture. YUM!