(WOOOOOOOOOSAHHHHHH)
That's me bracing myself for the potential backlash of this post. But I don't care! I am a part of the bariatric community, which means I am in this community, which means I see the many ways we invent to torture ourselves after surgery. And enough is enough. 2016 needs to be the year where we love ourselves.
And if you don't love yourself, 2016 needs to be the year you "fake it til you make it."
So do me, but more importantly yourself, a favor and STOP doing these things in 2016. Call it resolutions if you want. Just stop doing them!
Stop using exercise as penance for (perceived bad) food choices
Now let me make a distinction here. I am not talking about when you know you are going to have an indulgent weekend so you add a bit of time onto your workouts throughout the week to burn some extra calories. That's not what I'm talking about.
I'm talking about when some of us say, "I ate a cookie! Now I have to do an extra hour on the treadmill!"
Yes. That. Stop that. It's not healthy.
It seems like it's healthy. But it's not healthy. And I'll tell you why.
When you are early out in your post-op life it seems like whatever can motivate you to exercise is a good thing. But here's the deal. (Universe willing) You have a loooooong life to live. If physical activity is to be a sustainable part of it, you need to approach it with an agreeable attitude.
I don't know about you, but I generally don't have agreeable attitudes toward things I deem painful or punitive.
I know the rebuttals I'll get with this one too. "But it motivates me!" My answer would be "let's think about why painting exercise as punishment is motivating to you."
Foodies, exercise because it makes your body feel good. (And if it doesn't make your body feel good, find a new form of exercise!) Exercise because it's healthy. Exercise because it's part of your new lifestyle. But stop using exercise for penance for food choices!
Stop letting the scale dictate your self-worth
This is one I was once very guilty of. Again, let me qualify. I know a lot of folks use the scale to keep themselves in check. That's fine! Many of you weigh every day for accountability (I won't do that but I respect your right to do so). That's not what I'm talking about.
I'm talking about when we beat ourselves up over things that happen on the scale and especially when we start to exhibit overall unhealthy behaviors in reaction to the scale. That includes:
Undereating or starving yourself
Over-training (exercising way too much without the necessary rest your body needs)
Jumping head-first into "shall not be named" crash diets in order to feel better fast
That's not healthy! It's not healthy to determine your sense of self-worth or self-love on something as variable as your weight. Sure, we can control some aspects of our weight, but not all. If you see a gain, depending on how much it is, there could be many factors at play. You could be retaining water, you could have to take a poo, it could be the result of medications you are taking and, yes, it could be a result of your behavior.
The big point is that no matter what the scale says you are worthy of self-love and self-respect. Let me say that again, center it and underline it so you all here me.
No matter what the scale says, you are worthy of self-love and self respect.
Matter of fact, I think I'm going to make it a meme! Copy it, pin it, whatever!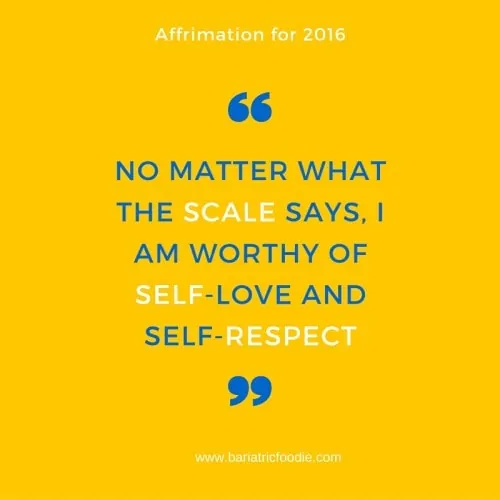 Say it. Every day. Until you believe it. And stop letting the scale determine your sense of self-worth!
Stop being afraid to ask your bariatric professionals for help
This one I know for sure many post-ops struggle with. How do I know? Because instead of emailing your bariatric professionals, you all email me! I don't mind (I really do love hearing from you) but I think it's time for us to get over this "sitting outside the principal's office" view of admitting to our bariatric surgeons that we are struggling.
This year I had the opportunity to meet many surgeons and I asked every one I met the same question. "What do you think of patients who are struggling?" Here are the most common answers I got:
"I think overcoming obesity is hard and I want to help my patients in whatever way I can."
"I wish patients would come see us when they first notice something is wrong. We can help avoid major regain."
"My team is here to help our patients, not judge them."
Notice what wasn't said. I can honestly say out of 50+ surgical practices I spoke with over the course of last year, not one said they think of regain as failure. Not one said they look down on post-ops who struggle or regain. But every person I spoke with expressed the desire to help. Because they want to help you. The day your surgeon stuck his or her hands into your gut, they became bound up with your future and your success. I have to believe that counts for something!
So if you are struggling, go see your surgeon! They have a team and they can help.
WHEW! So those are three things I hope you will STOP doing in 2016. I welcome your debate on any of these points, but in the end it's about coming to peace with your body and your process. Please note coming to peace does NOT mean becoming complacent. It doesn't mean giving up or throwing in the towel. It means you understand that this is a process and that at turns you will make mistakes. It means you want to turn your mistakes into learning moments to better equip you in the future. It means you know that beating yourself up and being negative didn't work in the past. It means that you know that insanity is doing the same thing over and over again and expecting different results.
Let's make 2016 the year we go for real change. What do you say?