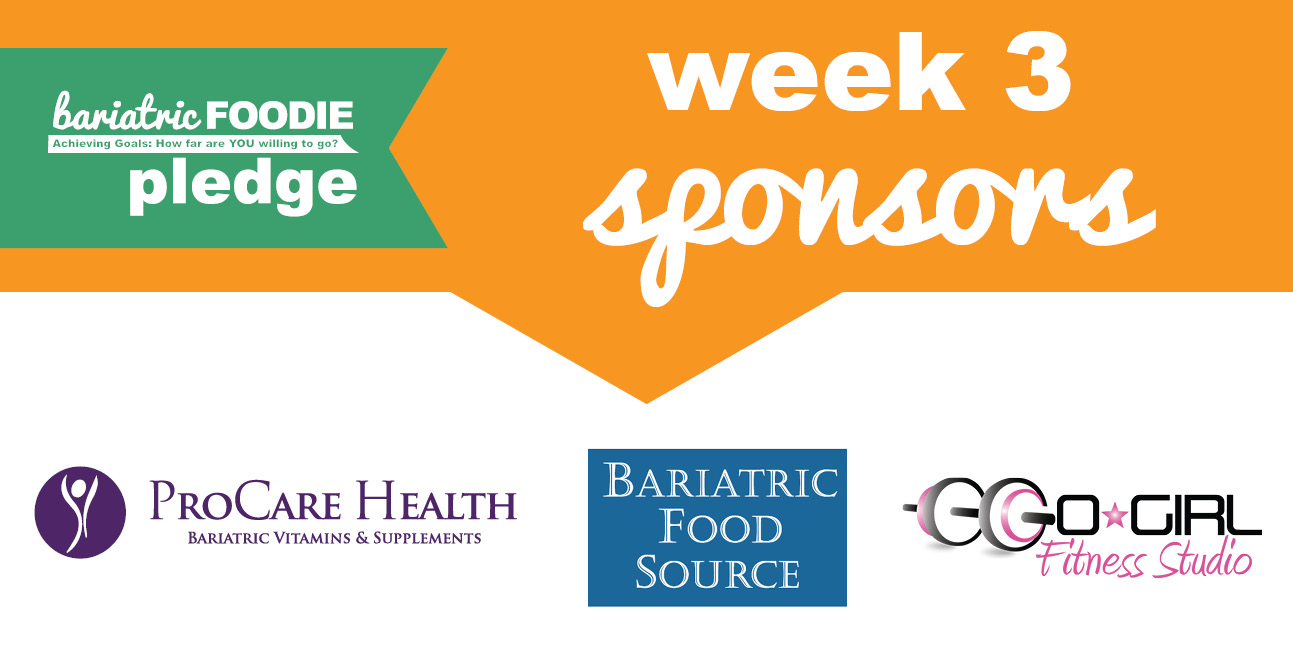 Not sure what the Bariatric Foodie Pledge is? Learn how it works – then sign up so you can have the chance to win prizes for working on your healthy goals!
SUPER IMPORTANT: This year you must be signed up in order to participate in the Bariatric Foodie Pledge. To sign up, click here! Then be sure to follow my instructions from there very carefully, even if you've done the Pledge in the past. Some things have changed.
With the business behind us…let's talk about your Week 3 sponsors.
Week 3 Sponsors & Prize Package
Week 3 of the Bariatric Foodie Pledge begins on February 11 and ends on February 17. The sponsors for Week 3 are:
And here is the Week 3 prize package! Five lucky Pledgers who complete Week 3 will win:
Read on to learn more about each sponsor and prize, along with some special discount offers just for the Bariatric Foodie Pledge!
Bariatric Food Source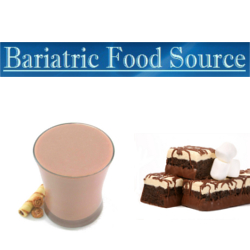 Bariatric Food Source offers a wide array of products that include bariatric vitamins, bars, shakes, and a variety of protein supplements that are compatible with most weight loss surgeries including gastric bypass and lap-band patients. Bariatric Food Source offers these products, which were previously only available to our clinic-based patients, at wholesale prices!
Bariatric Food Source's contribution to the Week 3 prize package is a Bariatric Starter Kit, which comes with a 10g Protein Bar Sampler, 15g Bar Meal Replacements, 15g Shake Variety, Snack Variety Pack, Select Sample Pack, and a Blender Bottle.
During Week 3, 20% off your entire order with code FOODIE18.  (Valid 2/11 – 2/17)
Check out Bariatric Food Source!
ProCare Health
ProCare Health believes vitamins should enhance life, not complicate it.  This belief drives us to continue creating innovative products to fill the unique needs of weight loss surgery patients while striving make it EASY! We offer several one a day options to meet your multivitamin needs at a cost 40-60% less than our competition. Partner it with our unique calcium options, Upcal D and Calcium Dark Chocolate bar, and you are set to meet your supplmentation needs in an easy, affordable, and delicious way!
ProCare Health's contribution to the Week 3 prize is a deluxe prize package that includes: one 30 count bag of Dark Chocolate Calcium bars, one 30-count bottle Capsule Once a Day Multivitamins, two on-the-go protein cups + plus a Buy One get One  Half off coupon for a 30-count bottle of vitamins.
During Week 3, take $5 off a bag of Calcium Dark Chocolate with code Foodie5. (Valid 2/11 – 2/17)
GoGirl Fitness Studio
Originally opened in Wilmington, NC as a space for women to feel comfortable getting fit, GoGirl Fitness Studio is now managed by Pandora Williams, Certified Personal Trainer and Obesity Rebel. A weight loss surgery patient herself, Pandora is dedicated to teaching people with obesity that "fitness fits everyone."
GoGirl Fitness Studios contribution to the Week 3 prize package is a GoGirl Fitness water bottle + 3 sessions in GoGirl Resolve, its premier online training program. From the comfort of your living room – or anywhere you like – GoGirl Fitness will provide a great workout via webcam, smartphone or other video camera enabled device, along with fitness support to empower and strengthen you toward your goal. (NOTE: You do not have to be a woman to participate in GoGirl Resolve!)
During Week 3, join GoGirl Resolve for an unbeatable price – three sessions a week for just $119/month! (That comes out to less than $10 a session!) (Valid 2/11 – 2/17)
Check out GoGirl Fitness Studio!