I am hella late. I know! I am but one person. Trying to harness her very "un-detail oriented" mind to execute some very detail oriented stuff. So that is to say…bear with me! Good stuff is always on the way!
So…I mentioned a while back that there would be a "door prize" for folks who order Holiday Survival Kits. Well, I am happy to announce that door prize now, along with some details.
The purchasers of the 2011 Bariatric Foodie Holiday Survival Kit will be entered into a drawing to win this: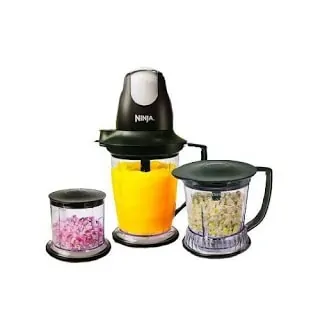 A Ninja Prep Professional Blender, Ice Crusher and Mixer!!!
QUESTIONS! Cuz I know you have them.
What the heck is a Holiday Survival Kit?
Read
this
then come back. We'll wait.
I already ordered my Kit. Am I entered for the prize?
Yep! You sure are!
By when do I have to enter to win the prize?
Foodies who order their Holiday Survival Kit before December 10 (also the cut-off date to receive your Kit before Christmas…for those of you who celebrate Christmas) will be entered to win this prize. The prize drawing will be on December 12 and the winner will be notified that day. The prize will ship that week.
I ordered my Kit without the Shake samples. Do I still have a chance to win?
Yes you do! I am not a big fan of discrimination. It messes up my appetite.
Ok…why are you doing door prizes for something I'm ordering in the mail?
Really? Ok, I said I would answer ALL questions! The point of doing the Survival Kit is to make sure ALL my Foodie friends have the opportunity to try out Bariatric Foodie's 2011 Signature Holiday Recipes. Some Foodies will do so at the live event (where there will also be fabulous prizes). For those that can't make it, I want the experience to be as close as possible to the "real thing!" But it's free stuff…who cares why I'm giving it away???
Any other questions,
you know where to find me
. Now, the really important question is…have you ordered your Survival Kit yet???