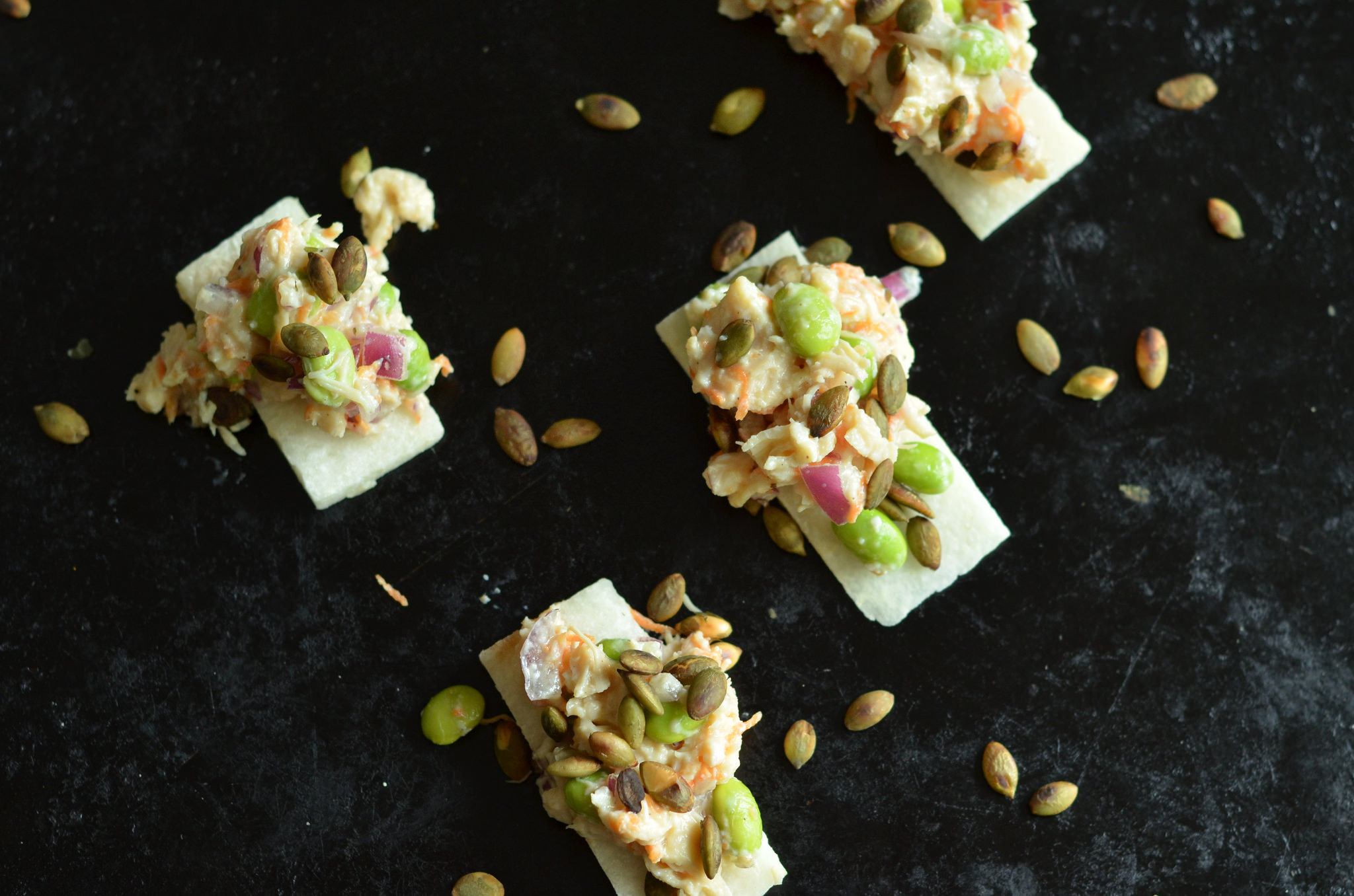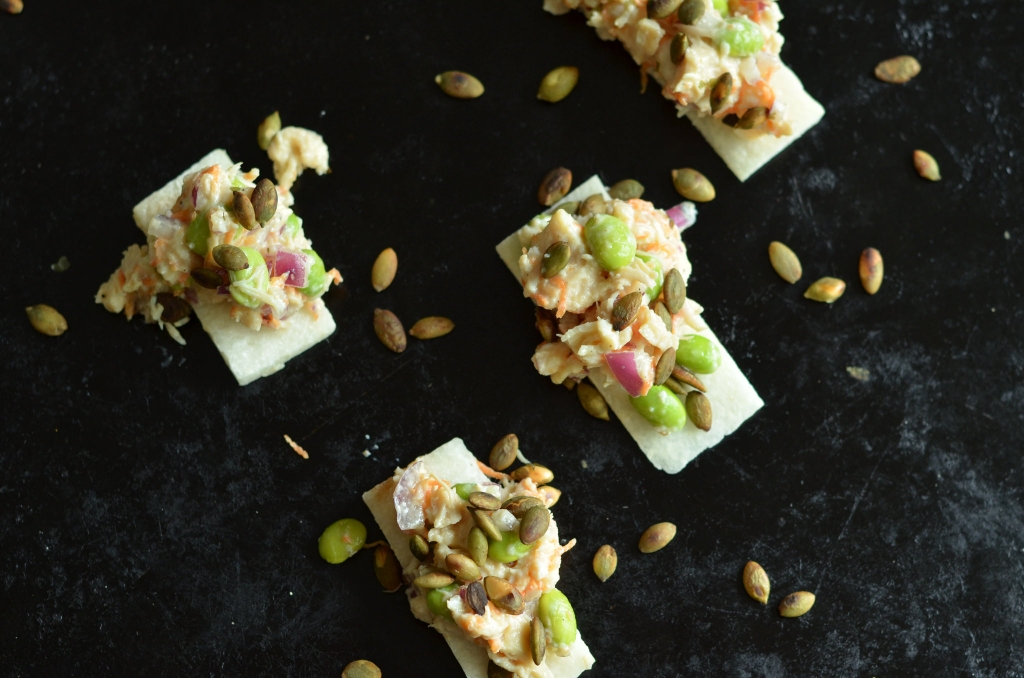 This recipe was developed as part of a partnership between Bariatric Foodie and Celebrate Vitamins. Here on Bariatric Foodie you'll find pictures and helpful recipe hints, then use the button at the bottom of this post to click through to the Celebrate Vitamins website to view and download the recipe, complete with nutrition information!
Unlike last week's Citrusy Crockpot Pork Tacos, this week I don't have a bunch of behind-the-scenes photos of this recipe for you. But the reason behind that is the very reason why this is a recipe you're going to want to try!
Basically it's a super-quick deal. And yeah, I could have snapped pictures of the whole five minutes it took me to combine the ingredients of this recipe but really…we've all made chicken salad before. It's not rocket science!
Instead I wanted to use this space to talk about two things that are near and dear to my post-op heart that might also be important to you:
Carb swaps!
Getting a lot of protein from a little bit of food.
Let's dive in.
Carb Swaps
This is a passion of mine! Just so we are on the same page, a carb-swap is when you use something that is not starchy (or is decidedly less starchy) in place of a starch. In this instance, I put my Power Chicken salad on jicama.
Now…first things first…what the hell is a jicama??? Good question. Here's me…circa 2012…explaining precisely this.
Of course jicama isn't the only thing you can use as a carb swap for things like chicken salad. There are lots of possibilities, including:
Cucumbers
Carrots
Rice cakes (that'd fall into the "less starchy" category)
Or if your plan approves of it, you can simply use high-fiber crackers
The point here is…do you! Play with your food! I like jicama because it has water in it (I can use every scrap I can squeeze out of foods), it has a lightly sweet taste and you just cannot beat that CRUNCH! But use whatever works best for you.
Big protein, little stomach
Much as I brag on my "Wonder Pouch," I actually cannot eat that much, as compared to before surgery – even at nearly 9 years post-op.
As I get older in "bariatric age" I also find myself more and more prone to blood sugar drops (who else gets them?). So all that is to say that I try to pack as much protein into my meals as I can, especially if I do have a source of carbs in there (and jicama is a vegetable and vegetables have carbs!) just to keep the balance in my meal.
What works for ME (and the "for me" is important here) is if my meals are about 40% protien, 35% carbs, 25% fat. That works well to keep me full and focused. How do I figure that out? I use a food journal, of course! You should too, which is why I patently refuse to put nutritional information on my recipes. (The fact that Celebrate has elected to provide them for recipes I've developed is a gift to you…but it will not be happening here on my site. Sorry!)
Anyhoo…that was the catalyst behind this chicken salad. I've actually been making it forever. But I started making it because I wanted to get more protein into my chicken salad. As you look over the ingredients you'll see a few places where I managed to do so. Plus, there's the added benefit of a lot of really satisfying combo's going on. There's sweet/salty/crunchy/savory. It's just a LOT of flavor happening in your mouth, k? And best of all, it's EASY! I think that's the key.  Especially in the beginning, many of us don't want to invest a bunch of time making food it takes us 3.2 seconds to eat (am I right?) so quick + easy + yummy + protein-packed = winner, winner chicken (salad) dinner!
I hope you enjoy this recipe as much as I do. Now hop on over to Celebrate and get it!