Last year BF did a "Leftovers Week" (and a Soup Week…and a Dessert Week. I was really into themed blogging at the time). This year I'm going to add a few more recipes to that but I figured I'd go over what is already here for your culinary enjoyment.
So without further adieu…my top 3 fave ways to use Thanksgiving leftovers!!! You can find all six of last year's "Leftovers Week" selections here. (And click on the title of the dish to get to the recipe!)
#1 – Leftover Stuffing: Nik's Swirly Stuffing Meatloaf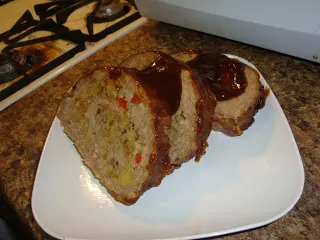 I love this. Unfortunately I had to go and make a reasonable amount of food this year so there is no leftover stuffing. Boo. I can't really justify making MORE stuffing just to make the meatloaf. That would be all kinds of wrong. But this is a way to turn a carb you love into a protein source!
#2 – Leftover Sweet Potatoes: Nik's Protein Sweet Potato Pancakes (with dipping sauce)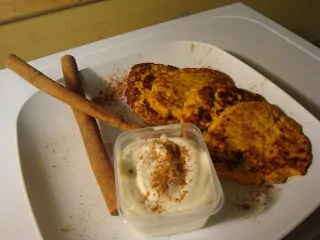 Whaddya mean you have leftover sweet potatoes??? Did they not LOVE my Salty 'n Sweet Potato Casserole? Ohhhh…you didn't order the Holiday Survival Kit. Yeah. It happens. I understand. Well, these pancakes are just too cute. And btw…for folks who DID order the Kit…I'm going to start adding Christmas content to the Kit page soon! For those who have not yet ordered their Kit (of customized recipes and resources), you can still order! See the PayPal button at the right!
#3 – Leftover Turkey: Nik's Turkey & TVP chili
I no have a picture. Sorry! But the chili is oooooooh so good. But don't tell anyone there's TVP in it. It just weirds them out unnecessarily. I don't know why. It may remain one of the greatest mysteries of our time!
Stay tuned later this week for what to do with that meaty turkey carcass you have sitting in a baggie in the fridge. Don't worry…it's still good for another four days! 😉
Enjoy!