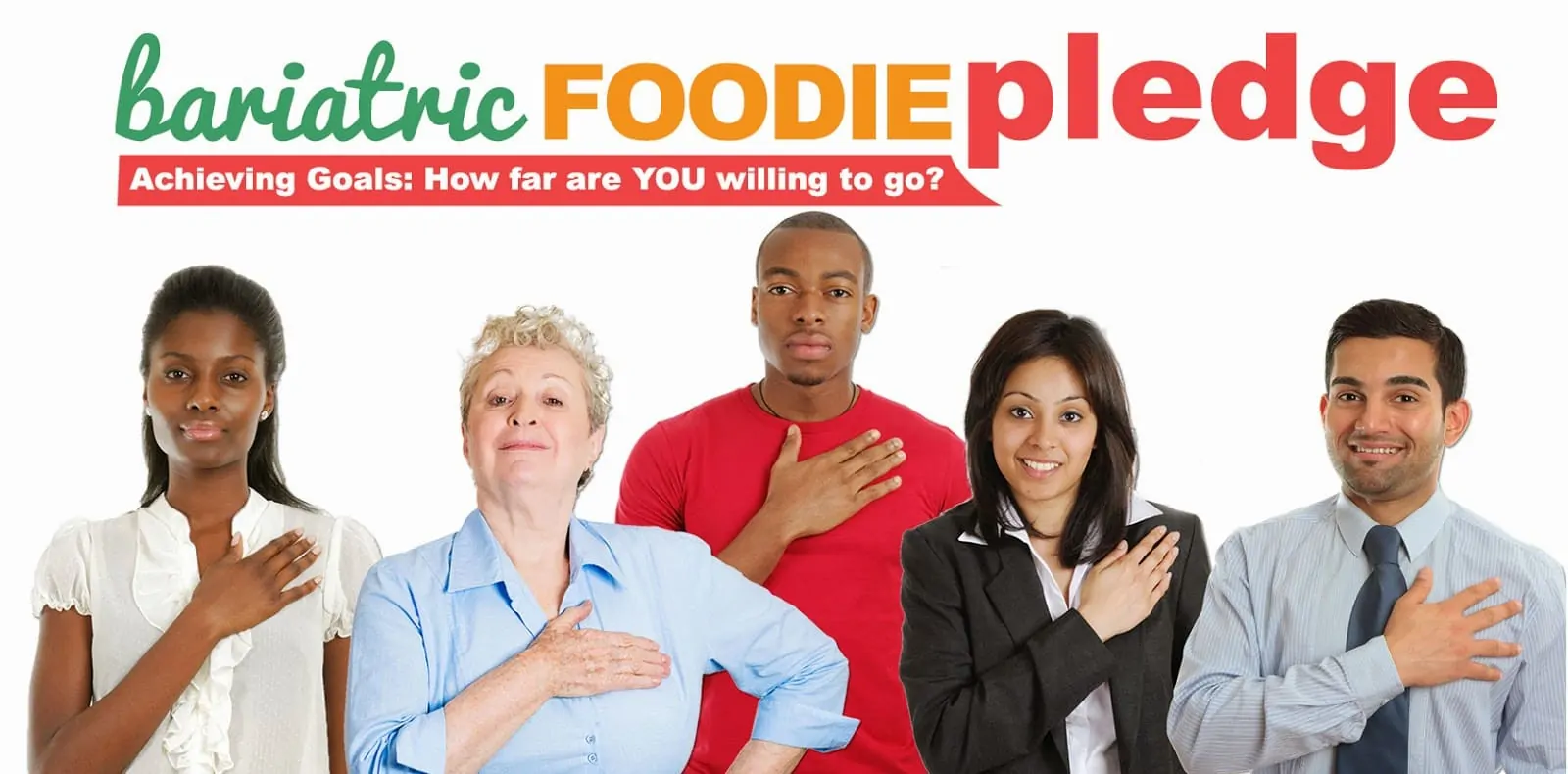 The 2019 Bariatric Foodie Pledge is in full swing! But you might be wondering…who is winning the prizes?!?
Remember, the prize winner announcements are shared by email every Monday night in the Pledge announcements email. (Hit Nik up at nikki@bariatricfoodie.com if you are not receiving Pledge stuff via email and she'll get you fixed up!) Also, if you are a winner, I will email you directly on a Monday and the email subject line will be "Congratulations! You won a prize in the Bariatric Foodie Pledge!" If you get that email, respond to it immediately! There's a time limit to claim your prize. 😉
But you can also always check here to see who the prize winners are. Here's how to get back to this page: go to the main menu of Bariatric Foodie and go under "The Bariatric Foodie Pledge" go to "Weekly Prize Winners."
Also remember that each week's prize drawing is a random drawing of people who turned in both a pledge and a check-in for the week.
Bariatric Foodie Pledge Weekly Prize Winners List
Congratulations to the following Foodies who have won prizes so far.
WEEK 1 – January 26 – February 1
Amy A. (aawicklund@*****.com)
Phyllis H. (phylhenke@*****.com)
Carol S. (carolann.salerno@*****.com)
Kimillia I. (juzfourme@*****.com)
Pamela M. (pamelam@*****.com)
WEEK 2 – February 2 – 8
Sylvie D. (spdaigle@*****.com)
Teri H. (terihadley49@*****.com)
Deborah T. (Traxel.d@*****.com)
Nora M. (nora@*****.com)
Marianne B. (Silbax25@*****.com)
WEEK 3 – February 9 – 15
Elizabeth S. (lizatsanchez@*****.net)
Anita H. (amhamp@*****.net)
Margie D. margiedernaika@*****.com)
Terri M. (terrigm50@*****.com)
Robin G. fireserpent1974@*****.com)
SECOND CHANCE WINNERS!
The Second Chance Drawing happens in week 4 of the Bariatric Foodie Pledge. It's where five pledgers who are missing either one pledge, one check-in or both within the same week are given the chance to move forward into the Grand Prize competition. You don't have to enter to win this drawing. Names are picked randomly from those who fit the criteria described. Congrats to:
Ann B. (eannbracken@*****.com)
Lillian C. (usmcllsmt@*****.com)
Lyndee L. (lyndee.leavitt@*****.com)
Kelly H. kmhiggins@*****.com)
Karen Z. (karzab99@*****.com)
WEEK 4 – February 16 – 22
Sherry T (steboe@*****.com)
Theresa K (twindivas@*****.com)
Karen W (Karenw83@*****.com)
Jennifer I (isenfam@*****.net)
Sandra E (sandyl1@*****.net)
The "Winner Takes All" Grand Prize Winner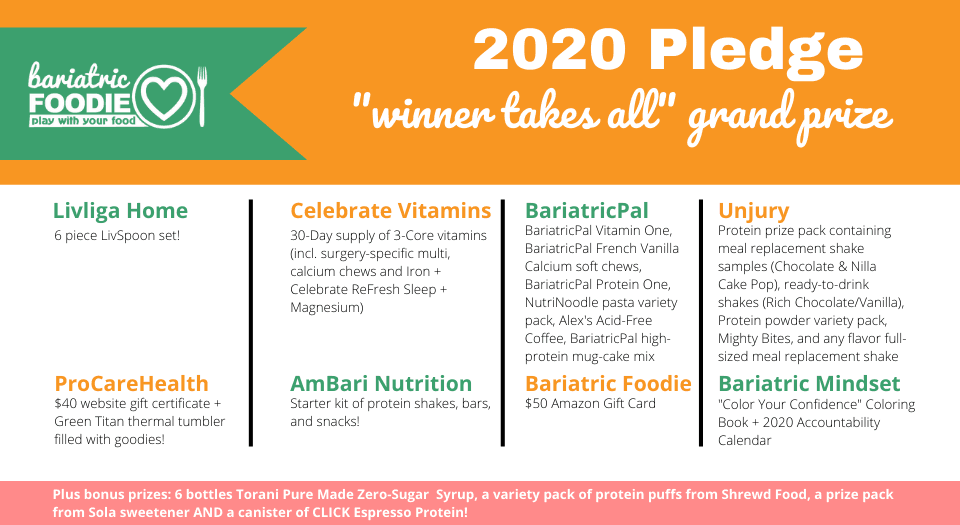 Four weeks. Four pledges. Four check-ins. And it all comes down to this. The winner of the 2020 Bariatric Foodie Pledge "Winner Takes All" Grand Prize is:
Crystal Hagen!!! (crystaljcsm@*****.com)
Congratulations! Just for working on your goals for four weeks, and being accountable, you have won one of every prize awarded during the 2020 Bariatric Foodie Pledge (+ some bonus goodies!). Now might be a good time to make nice with your postal worker. 😉 Crystal, you should have received an email from me directly with the subject line "Congratulations! You won the 2020 Bariatric Foodie Pledge Grand Prize!" containing instructions on what to do next. (If you don't see it, check your junk box! And if you still don't see it…email me at nikki@bariatricfoodie.com ASAP!)
Congratulations to all Pledgers!
I want to take a moment to congratulate all 900 people who took part in this year's Bariatric Foodie Pledge. Whether you participated in one week or all four, you took this opportunity to focus on YOU – making goals and being accountable. I hope you are as proud of yourselves as I am of you!
And, once again, I'd like to thank our prize sponsors, listed in the above graphic! The Bariatric Foodie Pledge would not have been possible without you! Foodies, please support these companies because they support you!
If you have any questions about the prizes or prize winners, please don't hesitate to email me at nikki@bariatricfoodie.com