I'm so glad you got your books and, again, sorry I couldn't send them all together. That set sold out FAST! I'm grateful for that, but I also thought I'd give you a few bonuses to keep you busy while you are waiting for your last book to arrive. Here's what I've got for you:
Zoodles 101: Your Zoodle Cooking Class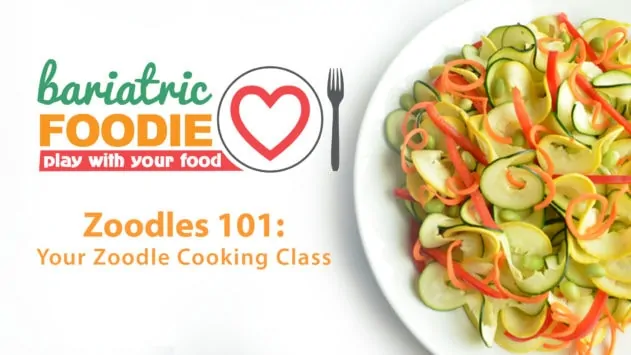 Yes! In this video cooking class I am going to take you step-by-step through the process of selecting the right zucchini, cutting, prepping, and cooking zoodles so that your dish comes out perfect every single time!
Click the button below to get started. There's a password on the page. That password is LoveThemZoodles (copy and paste that since it's case-sensitive).
How to learn confidence after WLS
I'm especially excited to share this with you because it is brand new. That means nobody else has this yet – only you! (This also means that I would appreciate it if you please, please, please do not share this link or book with anyone else. Book sales are an important part of how I keep Bariatric Foodie going, so I so appreciate your discretion!)
This book will take you through what confidence is and how to build it on your terms. I'm very proud of this book because I feel like we WLSers work so hard for healthier lives and we often don't get to enjoy it because we still feel bad about our bodies. While I hope that's not the case for you, if you have struggled with this, I really hope this resource will help. Click the button below to download it!
There's also a workbook that comes with this resource. Click the below button to grab that, too.