Hi there! My name is Nikki and I'm 10 years post-op RNY gastric bypass.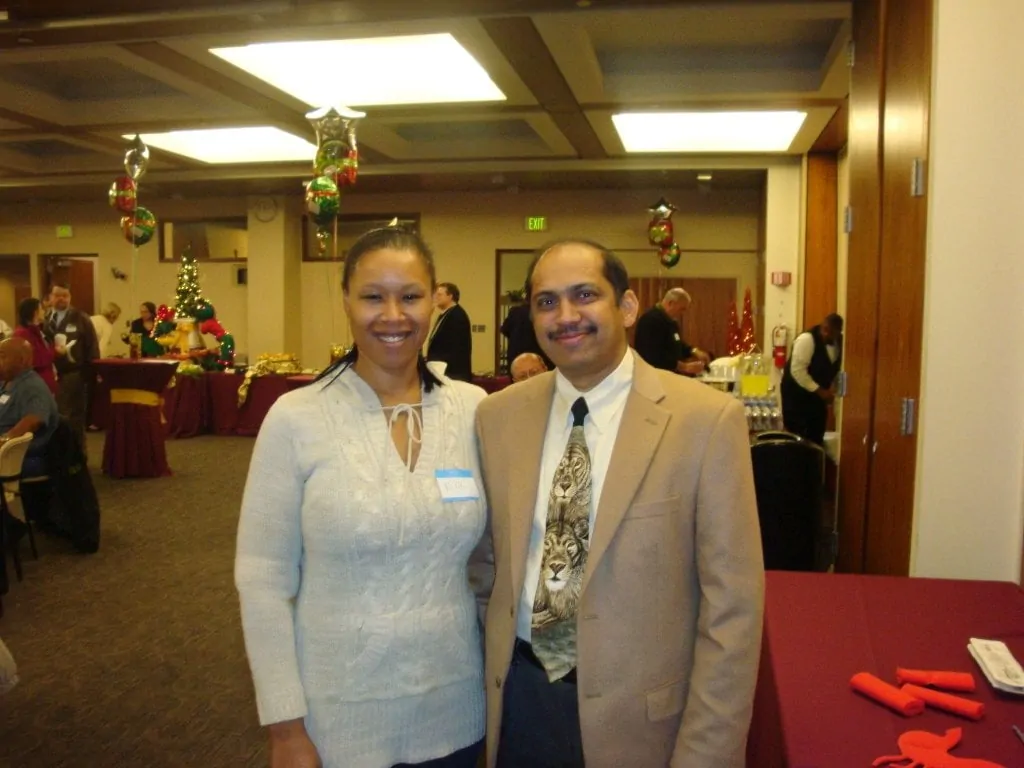 And this is a photo of me with my bariatric surgeon, Dr. Kuldeep Singh.
To say that Dr. Singh changed my life is an understatement. My absolute highest weight was 350 lbs. On my surgery day I was 327 lbs. My lowest weight was 178 and 10 years later, I am maintaining around 200 – 210 lbs. (depending on the day).
But he didn't change my life alone. It took a team – probably very much like your team – to help me learn a whole new way of life. I had a dietitian (several, actually), a bariatric nurse coordinator, and a therapist. And I dove into this lifestyle head first!
Aaaaaand I crashed. Why?
Well I had lots of people telling me how I should eat. But it took me a long time to grasp what I should eat.
So at first, I under-ate. And that backfired. I stalled so many times in my first year it wasn't even funny! At a point, I began to feel deprived and so I began to overeat. We all know that doesn't work either! Eventually, I found a happy medium. I learned to play with my food.
That's what this website is about, and that's one of the reasons I believe I am still in this fight, still active in this community, and still passionate about my own health and the health of so many others.
If you have landed on this page, it's likely you or someone in your office refers patients to my site. This is probably because I love to use healthy foods to satisfy cravings. But it may also be because I'm a big advocate of working with your bariatric medical team to address problems, and manage weight for the long-term.
But like me…there are a lot of post-ops who struggle to translate how they should eat into what they should actually cook for themselves day-to-day.
And that's where I can help. Here are just a few of ways Bariatric Foodie can help your practice keep your patients engaged, interested, and excited about eating healthy!
Online, interactive cooking demonstrations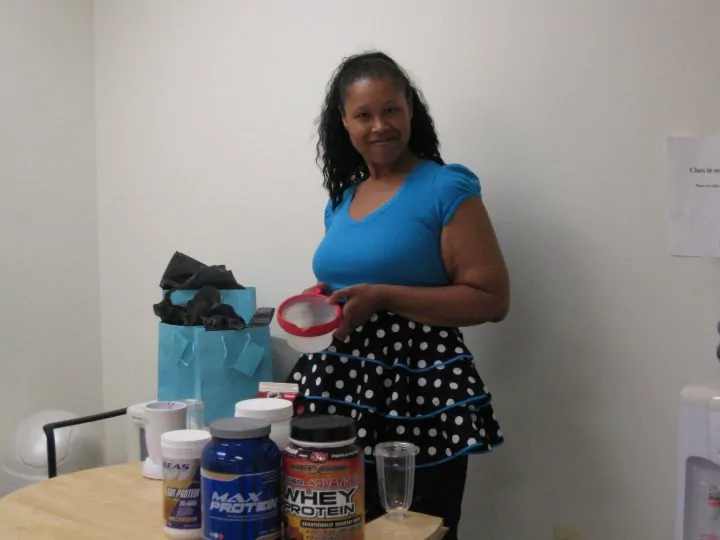 Bariatric Foodie started with me doing cooking demos in bariatric practices! When a practice booked me, I coordinated with their on-staff or preferred dietitian, came up with a theme and a plan of dishes to demonstrate, and folks would show up, learn to make those dishes, get a little post-op nutritional education, play some nutritionally focused games, and just plain have fun!
These days, I don't do many in-person demos, but I would love to work with your practice to do an online, interactive demo. Here's what that entails.
I will work with your on-staff or preferred dietitian to decide on a theme and dishes to demonstrate (a one-hour demo is sufficient to demonstrate about three dishes)
I will provide your practice with page to direct your patients to enroll in the demo and pay for their ticket (most demos cost $10 per person)
Patients can log on from their desired location, from their desired device (PC, smartphone, tablet).
I will create a downloadable PDF of all the dishes I demonstrate, which will be sent to your staff, and all participants, immediately after the demo concludes
You'll all also get a recording of the demo to use as you see fit
Let me use your nutritional guidelines to teach your patients to make healthy food that is nutritious and delicious!
C'mon! Let's do a cooking demo!
Events/Speaking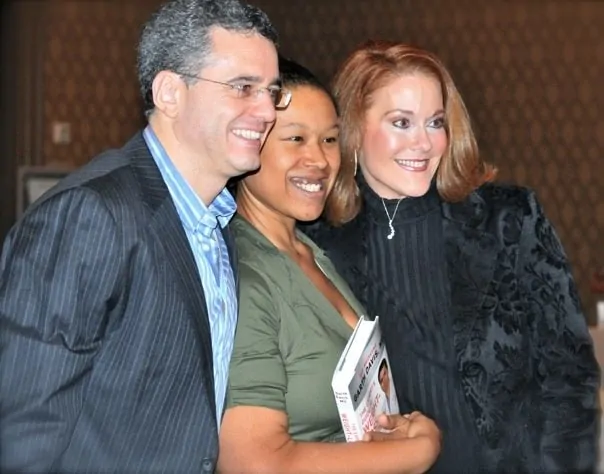 By trade, I am a writer. So I know there is nothing more powerful than a story!
That's one of the reasons all my recipes feature the stories of how I thought of them and what the dishes mean to me. But my personal story is powerful too!
Let me share it with your audience.
I have a signature presentation, entitled "After the After" that takes patients through the lead-up to my decision to have surgery, my immediate post-op struggles, my false expectations, my regain and what brought me back to being an active participant in my healthy lifestyle.
If you're looking for a speaker your patients can relate to, one who has made (and learned from) nearly every mistake a patient can make, and who came back stronger, smarter, and more committed to healthy living than ever, book me for your next conference or speaking event. I'd love to share my story with your patients.
Bulk book sales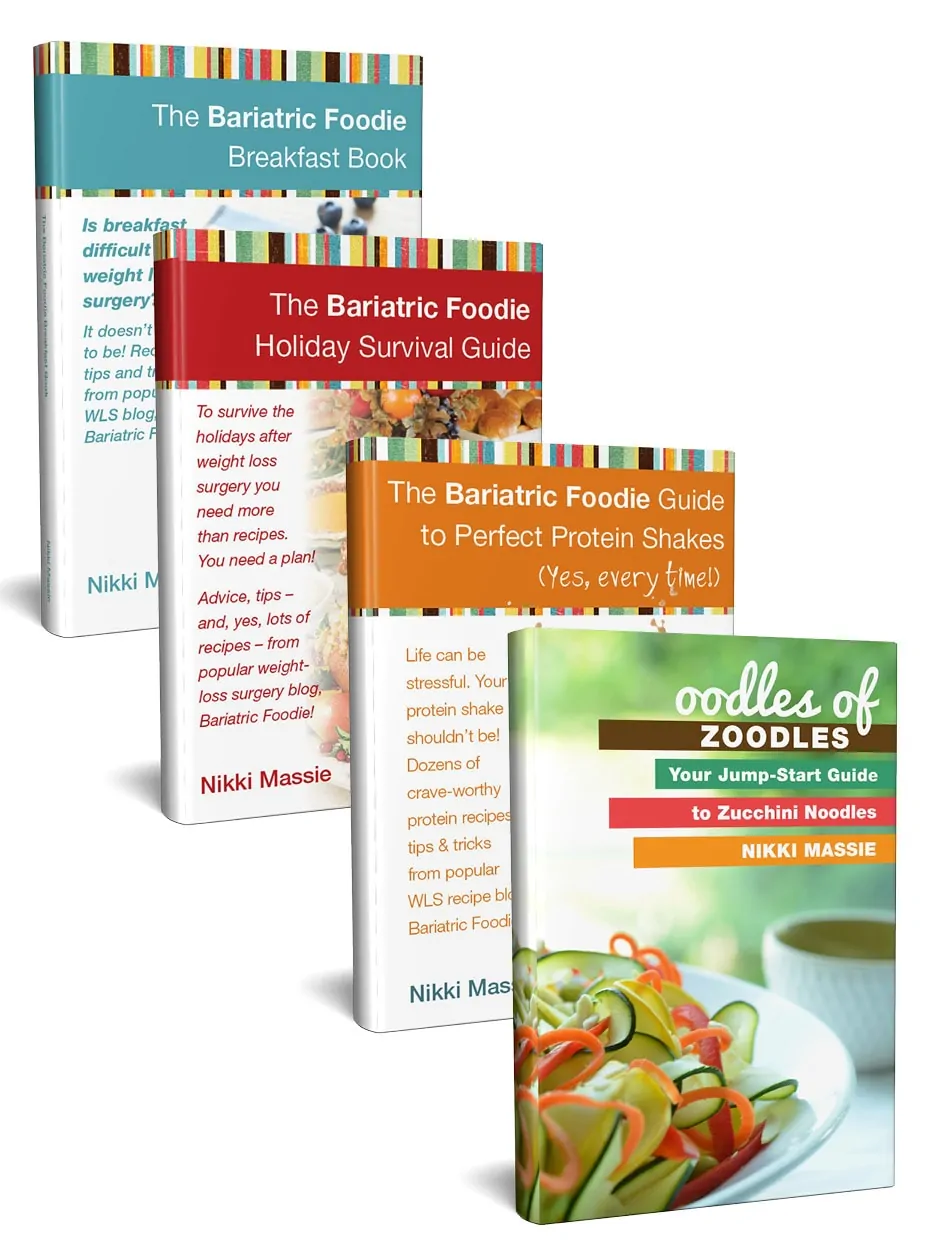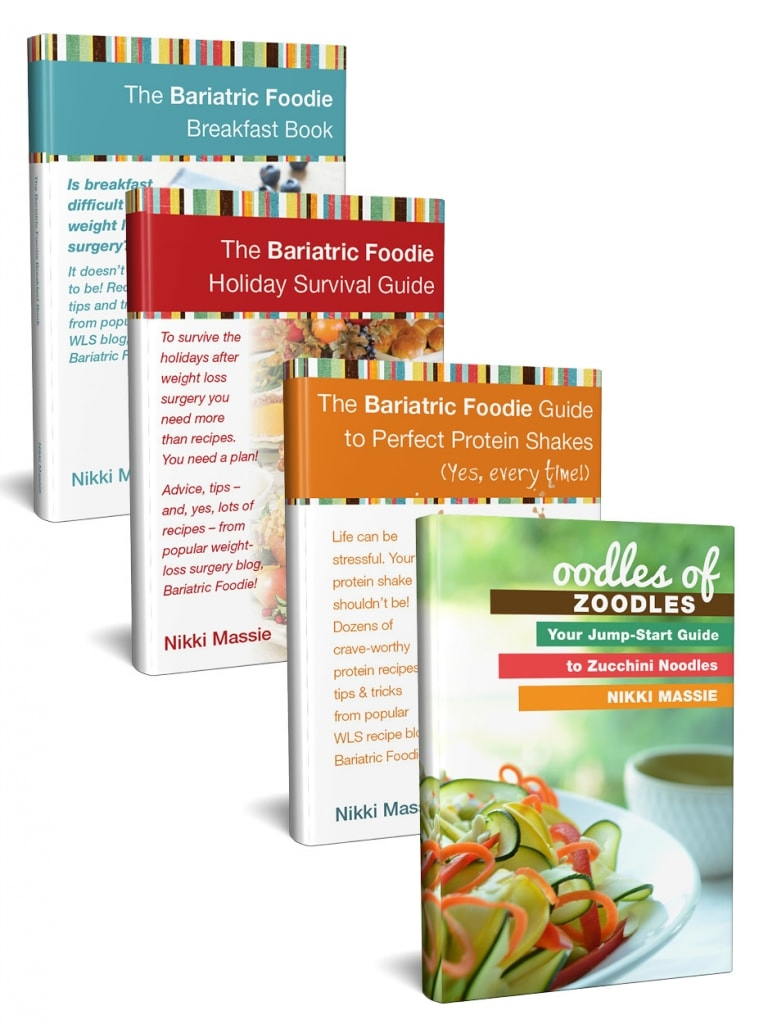 Most cookbooks give you a collection of great recipes, which is great.
But I write uniquely for the weight loss surgery community. What does that mean?
My books not only feature great recipes, but help my readers learn how food works, and how to put meals together that they love. So even if your favorite recipe isn't in my book, you come away with a strategy to be able to figure out how to make it! Plus each book is jam-packed with "been there, done that" tips on post-op life. Like what to do during that first, pivotal holiday season where your family is seeing the "new you" for the first time. Or how to get nutrition in the morning, even when your digestive system seems to hate you. And, of course, how to turn your protein shake into ice cream to satisfy your deepest cravings.
Bariatric Foodie has four cookbooks, and I offer bulk discounts for orders of 50 books or more. That means your support group can place a group order, and save some money off each copy of the books or you can keep them in stock in your office and resell them to new patients. The choice is yours!
You can learn more about each book in detail at the links below:
These books are highly popular among my audience and I'd love to introduce them to your patients.