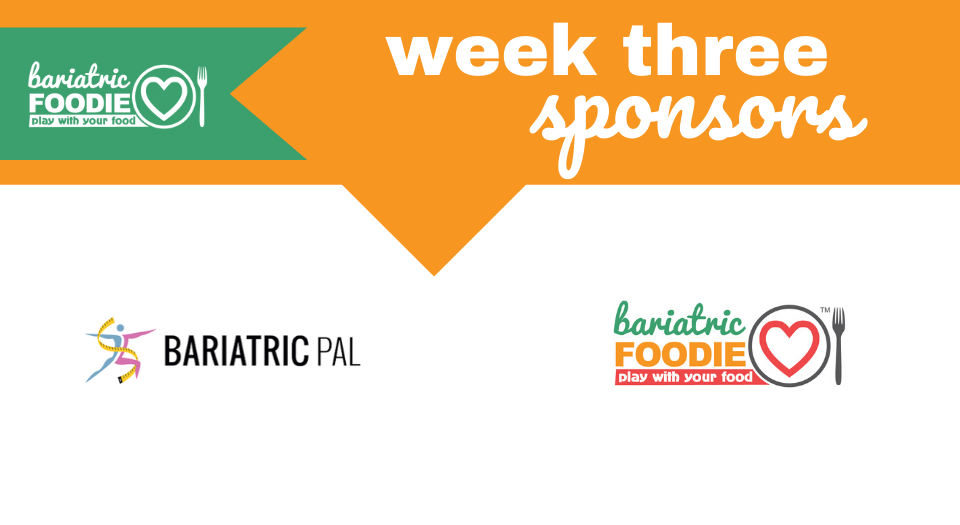 Not yet signed up to participate in the Bariatric Foodie Pledge? You must register to participate! Get signed up now so you don't miss the chance to win prizes for making goals and being accountable!
Week 3 of the Bariatric Foodie Pledge is made possible by our sponsors, BariatricPal and Bariatric Foodie!
Thanks to our sponsors for making week 3 of the Bariatric Foodie Pledge (February 9 – 15) possible.
Five lucky Pledgers will win the week 3 prize package which is:
A mega-prize package stuffed with vitamins, protein, and low-carb food items from BariatricPal
A $50 Amazon gift card from Bariatric Foodie
Remember, you must register to participate in the Bariatric Foodie Pledge to be eligible to win the prizes! (If you need to sign up, click here.)
Read on for more information about our sponsors and exclusive Pledge discounts and offers!
BariatricPal
BariatricPal is designed for bariatric patients, healthy for anyone. It's an online store that offering over 3500 different products from over 150 bariatric friendly brands!
Discount offer: BariatricPal is pleased to offer 35% off BariatricPal Multivitamin ONE and BariatricPal & BariatricPal Sugar-Free Calcium Citrate Soft Chews with Probiotics with code BFPLEDGE20. (Offer valid January 26 – March 2. Does not apply to recurring orders. Cannot be combined with other offers.)
Bariatric Foodie
Bariatric Foodie is the proud host of the Bariatric Foodie Pledge and is a website and online community that encourages weight loss surgery patients to play with their food!
Did you know Bariatric Foodie has four cookbooks to help inspire you to live your best healthy life? It's true! Support the site that hosts the Bariatric Foodie Pledge by checking out these titles, all available on Amazon!