It's that time again!
The entry period for the 2016 Bariatric Foodie Play With My Food recipe contest is now OPEN!
Please read this page before submitting your entry using the entry form below.
What is the Play With My Food Contest?
Here's the quick and dirty of it all.
Each year, Bariatric Foodie hosts a contest calling for Foodies to submit recipes according to that year's contest theme (more on that below), along with a photo of the recipe
A panel of Foodie-judges reviews all entries (read below to see what they are looking for) and decides on five winners, each of whom will get a $50 Amazon gift card.
Everyone who submits a recipe will have their recipe included in a special recipe e-book that will be available for FREE download on the Bariatric Foodie website. Here's the link to download last year's contest cookbook.
You may submit recipe entries from October 14 – 28. Winners will be announced in mid-November, and the recipe book will be available in December for free download to anyone who wants it.
The 2016 Contest Theme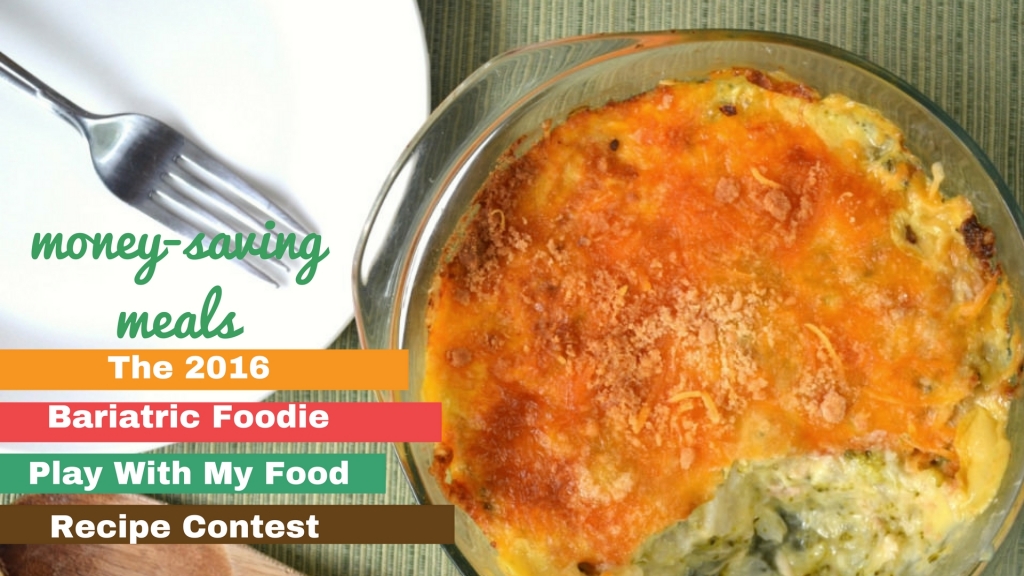 That's right…money-saving meals!
Many post-ops email me asking for meals that are both healthy and affordable. So this year, I challenge you, The Foodie Nation, to submit your best money-saving meals, for a chance at a prize!
What do you mean by "money-saving meals?"
The Foodie Nation is diverse and global and the term "affordable" is relative to each of us and our own situations. That said, the winning recipe submissions will:
Make creative use of recipe ingredients and cooking methods to save money
Contain ingredients most Foodies can find in a local grocery store (that is to say, they should not contain ingredients that can only be purchased in the region where you live)
Not be dependent on brand name items (meaning, generic products can be used to make the recipe)
Be your recipe (read below for what that means)
You may submit recipes for any of the following categories:
Breakfast
Lunch
Dinner
Family-style recipes
Dining for one (or two) recipes
Each category will have its own judge, who will pick the winner for that category.
When is the Play With My Food Contest Submission Deadline?
In order to be considered for a prize and inclusion in the recipe book, you must submit your entry no later than 11:59 p.m. EST October 28. If you're ready to submit your entry now, scroll to the bottom of the page and fill out the submission form! Winners will be announced in mid-November. The contest recipe book will be available on the Bariatric Foodie website for FREE download in December.
IMPORTANT: For your entry to be complete, you must submit:
A full recipe (all ingredients – with amounts (tbsp., tsp., etc.) + cooking directions
A photo of your recipe
The total amount it cost YOU to make this dish
(Helpful, but not required) The serving size + # of servings your recipe yields (You can put that in the "Is there anything else you'd like to tell us about your recipe?" field.)
Failure to submit all required information requested will result in disqualification of your recipe from both judging and publication in the contest recipe book.
The Photo Contest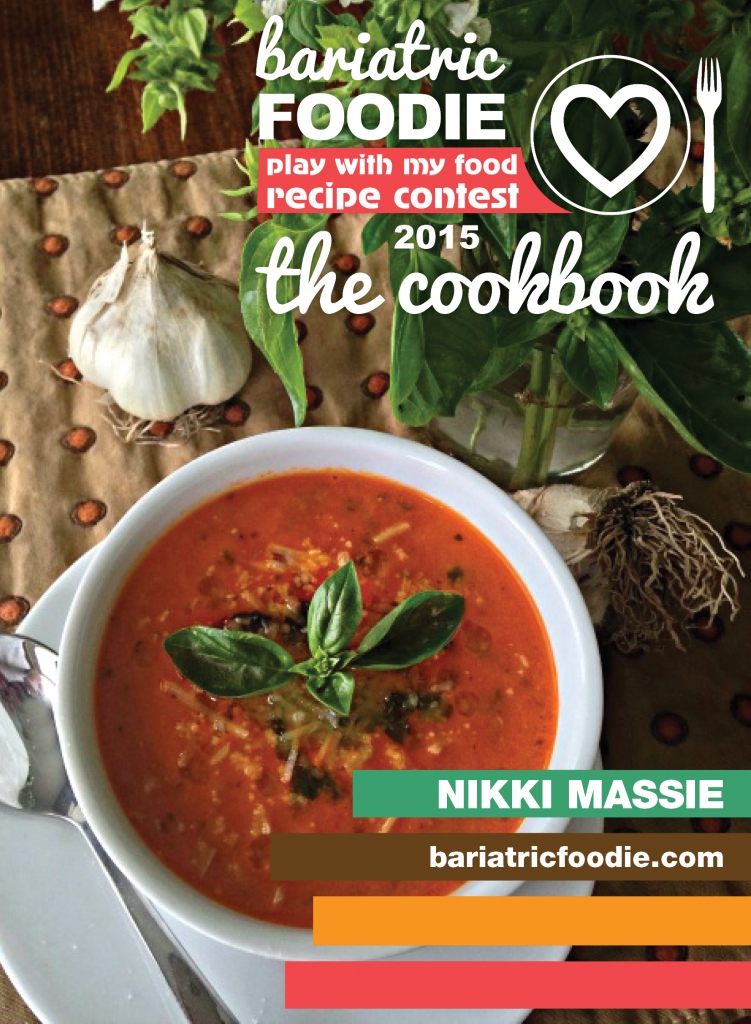 Back by popular demand is the photo contest! I (Nik) will judge this myself. If you've got food photo chops, make sure to show me your best and brightest picture! The winner of the photo contest will have their photo featured on the cover of the cookbook and will also receive a $50 Amazon gift card. Entries to the photo contest must still comply with the above criteria (meaning that you must submit a full recipe that is a money-saving meal), and still must be submitted with complete recipe information and a photo.
NOTE: You can win both the photo contest and a catergory contest! You may not win more than one category.
Do the recipes have to be 100% original?
No recipe is 100% original. Every recipe is a spin on another recipe you've seen before. Keeping that in mind, when I say a recipe you submit must be your recipe that means:
It's ok if you didn't think of the recipe yourself, if you drew inspiration from somewhere else
It's also ok if you started out with someone else's recipe as a base recipe and then changed it
It is NOT ok to cut/paste someone else's recipe and enter it as your own in this contest
That clear? If not, email me at [email protected] We'll talk it out!
Long story short: you don't have to have thought of the recipe from scratch yourself, but it should be a recipe you have made your own, as opposed to taking someone else's whole recipe and submitting it as your own.
How many recipes can I submit? Do they have to be certain kinds of recipes?
You may submit a total of three (3) recipes for consideration. They may be in different categories or the same category. Each entry must be done separately. (That means you must fill in the entry form completely for each recipe you submit, press "submit" and then fill out the form again to submit your next entry.)
Just remember that for your recipe entry to count you must submit both a recipe and a photo of that recipe. (Don't freak out about the photo. Here's a good resource on how to take a good food photo with your smartphone!)
How will winners be decided?
After the submission period ends on October 21, all recipes will be handed over to a panel of Foodie judges. The judges will look over your recipes and may even try them before selecting a winner for their category. Each winner will receive a $50 Amazon gift card. Winners will be announced in mid-November, and all recipes will be published in the contest recipe book, which will be available for FREE download on Bariatric Foodie in December!
Submit Your Recipe Here
(You'll submit everything except your photo using the form below. When you're ready, please email your photo to [email protected] Please include the name of the recipe in the subject line!)