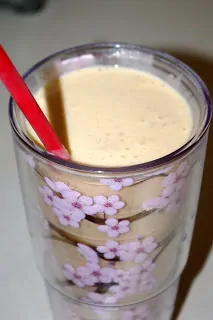 So last week I promised reader submissions! This one came in from Lois. We actually ended up having a really good and productive email conversation stemming from her emailed recipe and she has given me permission to share that conversation with you.
I've said it a few times and I will say it again: be CAREFUL of protein shake additives. It's fine to add some stuff to your shake to make it more enjoyable but pay attention to the stats! Protein shakes should always be mostly protein. If what you are adding changes that, then it should probably be in the "extreme moderation" category. If you're ever unsure if your additions are helping or hurting your shake, my Protein Shake Check-Up tool is a great place to start to find out!
Such was the case with Lois' Blizzard. She reports she only has this every once in a while (cuz, as a Foodie, she is learning moderation!) so it's all good on her end. In this post I will show you her recipe and then a few modifications I made to it in order to get it more toward being an everyday shake.
Here is Lois' original recipe from her blog, Thoughts Along Life's Highway:
Banana Butterscotch Protein Blizzard (Original version)
1 ripe or overripe banana
10 oz milk
1 Tbsp Sugar Free Butterscotch Instant Pudding mix
2 scoops vanilla protein powder
1 cup ice
8-10 vanilla wafers
1 Tbsp Sugar Free caramel syrup (Torani or DaVinci)
Mix all ingredients in a blender.
Makes 2 servings
Now if you've read this blog for a while, you know I don't post stats (nutrition information) on my recipes for a variety of reasons (click here to read them all!) but what you may not know is that I do RUN stats on the recipes I post so that I can know where they are on the protein:carb:fat spectrum. From eyeballing this recipe, I thought it might be in order to run some stats and I did. The basic stats for the recipe above (for each serving) are:
342 calories, 44g carbs, 31.5g protein (which differs from the 28g or so she quotes on her blog).
When I told Lois she was a bit surprised, but since she only has this every now and again as a treat she said she'd play around with it to see what could be done. It makes me very happy when Foodies take food information and use it to their advantage!
So here's my suggested recipe for making the same sort of shake with a few less calories.
Banana Butterscotch Protein Blizzard (Every Day version)
(I say "every day" version as this is a more sensible treat version but if you want an "every day" every day version, you might just make the shake and skip the chunky additives)
8 oz milk
1 scoop vanilla protein powder
1 tbsp (or two pumps) Davinci sugar-free Butterscotch syrup
1 tbsp sugar-free, fat-free banana cream pudding powder
1 low-sugar graham cracker, smashed into large-ish pieces
1 cup ice
No-cal sweetener, to taste
Optional: Since there are already a lot of flavors going on here, you can choose if you want to add caramel to the mix. If so, use Davinci or Torani sugar-free caramel syrup.
Ok…so here are the "why's." If you read the Protein Shake Check-Up tool, you'll see that I hardly ever advocate for whole bananas in protein shakes. Half? Yes. Whole? Not so much. Read the Check-Up to find out why! By replacing with a tablespoon of pudding, we've come down about 75 calories and 20+ grams of carbs.
Lois' original recipe calls for Butterscotch pudding. Well, since I added banana, I didn't want to use two different kinds of puddings. Pudding mix doesn't have bad stats, but every gram of carbs counts and if you can avoid adding them to a protein shake, you should!
Lastly, I replaced the Nilla wafers. Even if you get the sugar-free kind, they're still pretty carb heavy. Instead, I went with a graham cracker, which gives you a nice, lightly sweet chunky additive for a fraction of the calories and carbs. So it still feels like a treat!
Also, try using the Triple X method to blend a smooth, thick, creamy shake. Just remember that you don't add your graham cracker until the end and then only whiz a second or two to keep it chunky!
This shake clocks in at 260 calories, about 23g arbs (12 of which coming from the milk) which is pretty darn decent if you do this as a meal replacement.
If you want to cut that down even further and are willing to gather a few extra ingredients, here's another version:
1/2 c. unflavored Greek yogurt
1/2 c. water
1 scoop vanilla whey
1 tbsp banana pudding mix
1 tbsp sugar-free Butterscotch syrup
1 cup ice
1 low-sugar graham cracker crushed
Same directions as above.
So there you have it…THREE different variations of the same shake! It really goes to show how a few ingredient swaps can change everything!
Thanks, Lois, for sharing your shake, your blog and for allowing me to make over your shake! I have another Protein Blizzard recipe here on the blog along with my general thoughts about Blizzard additives. Check it out!
And check back for more reader submissions this week!