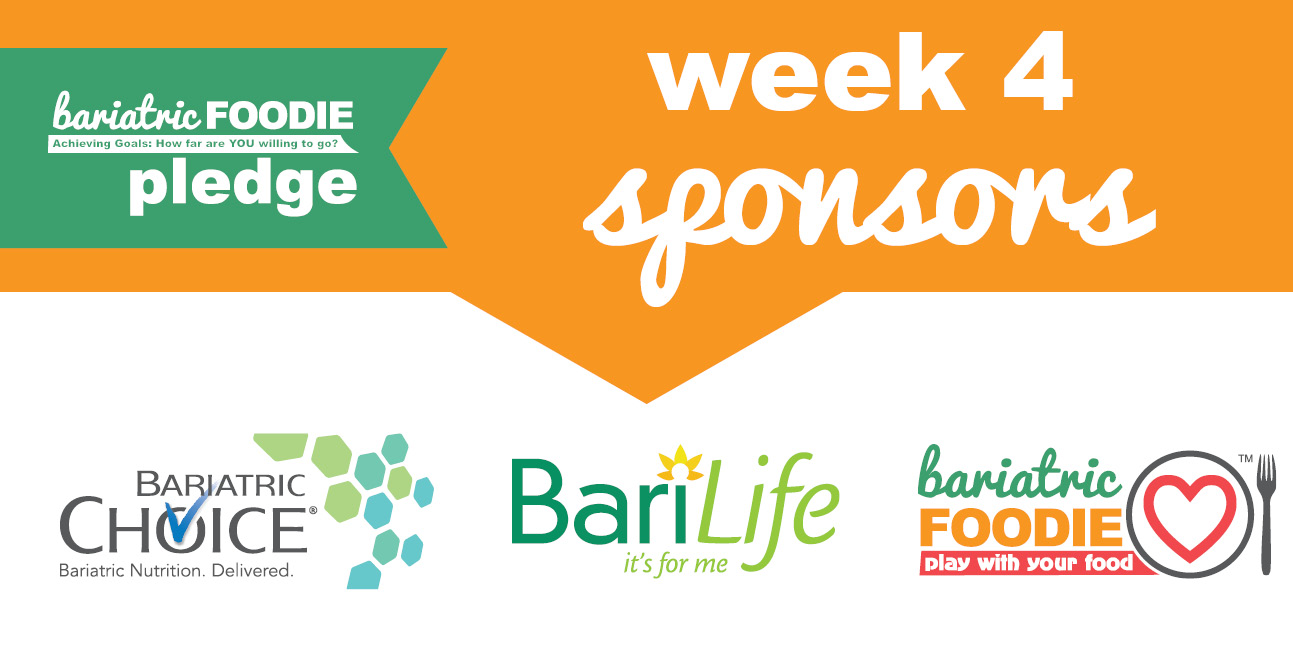 Not sure what the Bariatric Foodie Pledge is? Learn how it works – then sign up so you can have the chance to win prizes for working on your healthy goals!
SUPER IMPORTANT: This year you must be signed up in order to participate in the Bariatric Foodie Pledge. To sign up, click here! Then be sure to follow my instructions from there very carefully, even if you've done the Pledge in the past. Some things have changed.
With the business behind us…let's talk about your Week 4 sponsors.
Week 4 Sponsors & Prize Package
Week 4 of the Bariatric Foodie Pledge begins on February 18 and ends on February 24. The sponsors for Week 4 are:
And here is the Week 4 prize package! Five lucky Pledgers who complete Week 4 will win:
Read on to learn more about each sponsor and prize, along with some special discount offers just for the Bariatric Foodie Pledge!
Bariatric Choice
Launched in 2005, BariatricChoice.com is focused on serving individuals who have experienced, or who are about to experience, weight loss surgery. To that end, they offer a wide variety of top-quality nutritional diet products and dietary supplements developed for people on supervised Bariatric diet programs and for all pre- and post-surgical phases of your journey.
Bariatric Choice's contribution to the Week 4 prize package is a mega-prize pack that includes: a WonderSlim EasyStart™ Premium 3-Day Diet/Weight Loss Kit, two Packs of Bariatric Choice® All-In-One Multi-Vitamin w/ 375 mg Calcium Citrate (Tropical Citrus), one WonderSlim Protein & Fiber Bar (Fluffy Salted Toffee Pretzel (7ct box), and a 1 oz package of Snackery Jerky- Smokehouse.
During Week 4, take $10 off any order of $79 or more with code FOODIE. (Valid 2/18 – 2/24)
Bari Life
The Bari Life® formula was customized by a surgeon for his own patients based on the research of hundreds of real patients and the highest industry standards. The research and products garnered enthusiastic reviews from both patients and dietitians, support from other surgeons, and the endorsement of a highly qualified medical review board. Now, Bari Life® is confidently taking this proprietary, proven blend forward to others who need it. Giving patients what they need to succeed conveniently and at a more affordable price.
Bari Life's contribution to the Week 4 prize package is a supply of their Lemonade Multi-Vitamin powder packets. Easily drink all of your essential daily vitamins and minerals! Bari Life simplifies your vitamin regimen by providing everything you need into one formula. Our clinically proven all-in-one multivitamin powder includes 1500mg Calcium Citrate and 45mg Iron. So, you can say goodbye to chalky chewables and countless pills!
During Week 4, take 15% off site-wide with code BLFoodiePledge17. (Valid 2/18 – 2/24)
Bariatric Foodie
Bariatric Foodie is where people in the weight loss surgery community come to "play with their food!" With high-protein, low-fat, responsible carb recipes, Bariatric Foodie teaches that there is NO food that cannot be made weight loss surgery friendly!
Bariatric Foodie's contribution to the Week 4 prize package is a full-set of its cookbooks: The Bariatric Foodie Guide to Perfect Protein Shakes, The Bariatric Foodie Breakfast Book, The Bariatric Foodie Holiday Survival Guide, and Oodles of Zoodles: Your Jumpstart Guide to Zucchini Noodles. PLUS, the winners will get an opportunity never offered by Bariatric Foodie before: a custom, online cooking class where Nik will make over your favorite recipe!