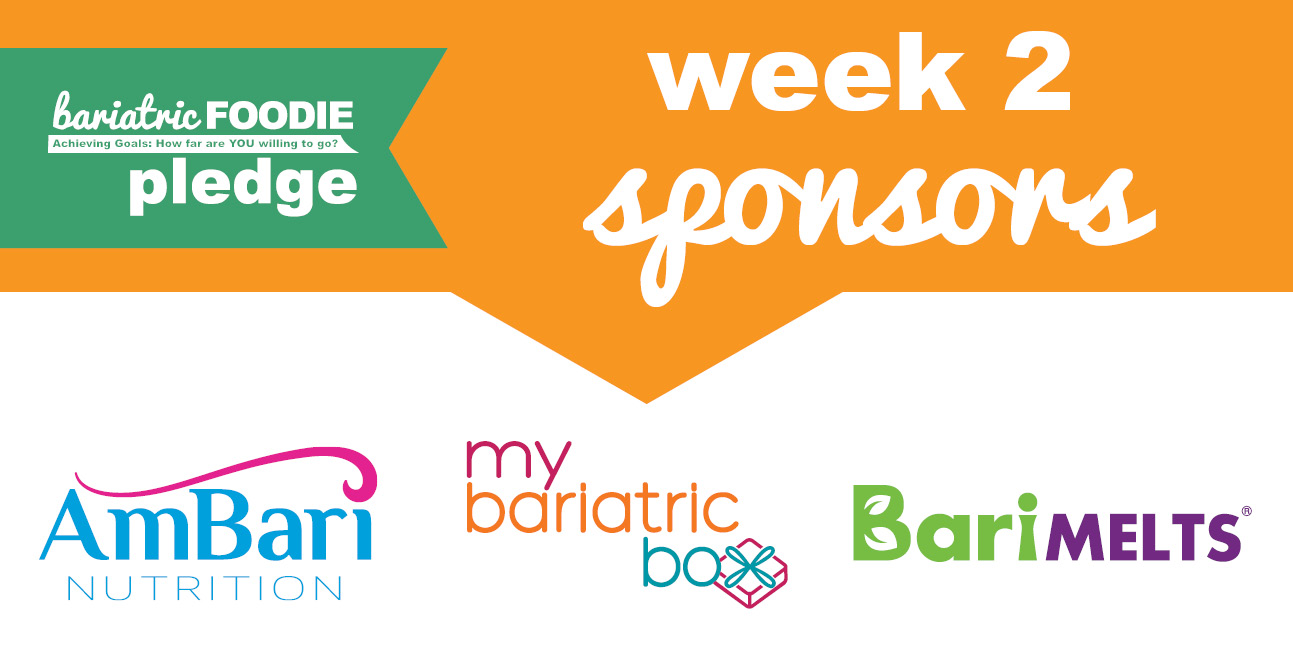 Not sure what the Bariatric Foodie Pledge is? Learn how it works – then sign up so you can have the chance to win prizes for working on your healthy goals!
SUPER IMPORTANT: This year you must be signed up in order to participate in the Bariatric Foodie Pledge. To sign up, click here! Then be sure to follow my instructions from there very carefully, even if you've done the Pledge in the past. Some things have changed.
With the business behind us…let's talk about your Week 2 sponsors
Week 2 Sponsors & Prize Package
Week 2 of the Bariatric Foodie Pledge begins on February 4 and ends on February 10. The sponsors for Week 2 are:
And here is the Week 2 prize package! Five lucky Pledgers who complete Week 2 will win:
Read on to learn more about each sponsor and prize, along with some special discount offers just for the Bariatric Foodie Pledge!
Ambari Nutrition
Ambari Nutrition products, originally created for medical weight loss, are made from the highest quality ingredients and are designed specifically to support a healthy lifestyle. Whether you're looking to add some high-quality protein into your diet, or just want to lose some weight the healthy way, you'll find it all on the Ambari Nutrition website!
Ambari Nutrition's contribution to the Week 2 prize package is its Bariatric Starter Kit, which comes with a 10g Protein Bar Sampler, 15g Bar Meal Replacements, 15g Shake Variety, Snack Variety Pack, Select Sample Pack, and a Blender Bottle.
During Week 2, take 20% off the entire order with code BFoodie18. (Valid 2/4 – 2/10)
BariMelts
BariMelts® was designed with the special needs of Bariatric patients in mind! With unique formulations & our melt-in-the-mouth technology, our vitamins allow you to get the nutrition your new system needs, without having to swallow large chalky tablets that may cause discomfort.
BariMelts contribution to the Week 2 prize package is a 90-day supply of both BariMelts Biotin and BariMelts B-12 Plus!
During Week 2, take 25% off your entire order with code FOODIE25. (Valid 2/4 – 2/10)
My Bariatric Box
My Bariatric Box seeks out the best bariatric diet compliant foods, snacks, supplements, fitness gear, healthy eating tools, and non-edible indulgences and deliver 8 or more of them right to your door every month.
My Bariatric Box's contribution to the Week 2 prize package is a one-month box subscription.
During Week 2, take 15% off a three-month subscription with code FOODIE15. (Valid 2/4 – 2/10)