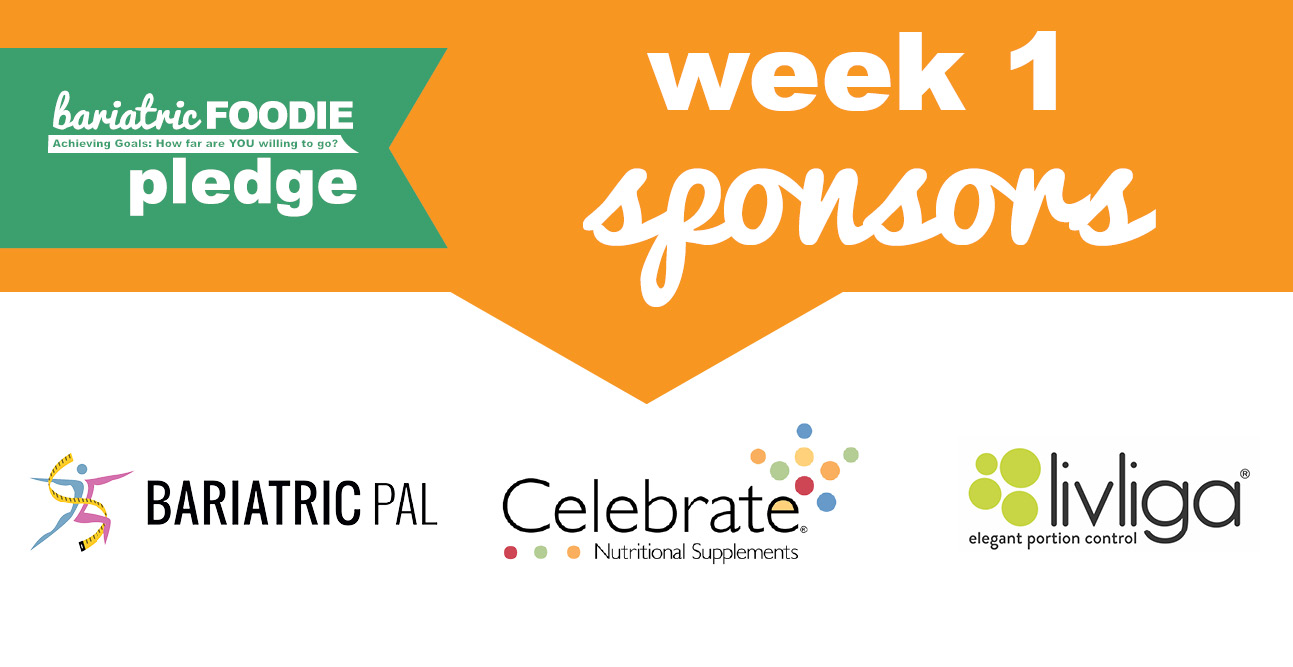 Not sure what the Bariatric Foodie Pledge is? Learn how it works – then sign up so you can have the chance to win prizes for working on your healthy goals!
SUPER IMPORTANT: This year you must be signed up in order to participate in the Bariatric Foodie Pledge. To sign up, click here! Then be sure to follow my instructions from there very carefully, even if you've done the Pledge in the past. Some things have changed.
With the business behind us…let's talk about your Week 1 sponsors
Week 1 Sponsors & Prize Package
Week 1 of the Bariatric Foodie Pledge begins on January 28 and ends on February 3. The sponsors for Week 1 are:
And here is the Week 1 prize package! Five lucky Pledgers who complete Week 1 will win:
Read on to learn more about each sponsor and prize – and snag some special Pledge discounts and offers!
BariatricPal.com


BariatricPal.com is your friend in bariatrics. It's sort of like Amazon for bariatric post-ops. They carry many of your favorite brands, have convenient "subscribe and save" options, and are always having some sort of sale! Plus you can earn points for every dollar you spend and rewards for referring friends!
BariatricPal's contribution to the Week 1 prize package is a deluxe prize package that includes: a 2 lb. tub of BariatricPal Protein One (in the flavor of the winner's choice), (1) BariatricPal High Protein Bars – Variety Pack, (1) BariatricPal Crunch – 5 Flavor Variety Pack, (1) BariatricPal Hot Chocolate Protein Drink – Variety Pack, (1) BariatricPal Thermogenic Antioxidant Energy Powder Blend – 1 of each flavor (1) BariatricPal Gingerbread Protein Cake Mix.
During Week 1, take $10 off your order of $69 or more (plus free shipping!) with code FOODIE18(Valid 1/28 – 2/3)
Celebrate Vitamins
Celebrate Vitamins goal is to provide bariatric and weight loss patients with the highest quality products available at an affordable price. Celebrate® develops specialized bariatric vitamins and nutritional supplements for people that are either losing weight under the care of a physician, or have had (or will be having) a surgical weight loss procedures. All products are developed based on the most current scientific research and are designed to enhance absorption, taste great, and be easy on the stomach.
Celebrate's contribution to the Week 1 prize package is Celebrate Calcium Citrate Soft Chews, which have been completely reformulated! Introducing 5 (YES – FIVE) brand NEW flavors: watermelon, cherry, strawberry-banana, café mocha and blackberry! These great new flavors join existing flavors chocolate, caramel and orange, which have also been upgraded!
During Week 1, take $5 OFF a bag of Calcium Citrate Soft Chews with the code FOODIE18. Type "I took the pledge" in the comment section of your order to receive a FREE bonus gift! (Valid 1/28 – 2/3)
Livliga
Livliga®  was founded in early 2011 in Boulder, Colorado and conceived out of a personal desire to find an answer to our supersized world surrounding eating and to find a better solution beyond the ugly "diet plate." Recognizing the need to "right‑size" the food environment, Livliga set off to develop a suite of everyday products, which included discrete portion control and subtle reminders, for a balanced diet to support a healthy lifestyle.
Livliga's contribution to the Week 1 prize package is the Just Right Set Bariatric, a beautiful 2-piece dish set that includes a bowl and a plate in the multi-colored Aveq pattern and has measurements built-in…and a map of all measurements on the back of the plate. Great to use before and after weight loss surgery or after any bariatric procedure. Designed for your bariatric success!
During Week 1, 15% discount on any of our product, with a one-time use code: BFPledge15! (Valid 1/28 – 2/3)